Yemen protests: Sanaa sees fifth day of demonstrations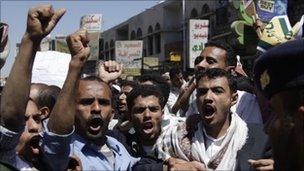 Security forces in the Yemeni capital, Sanaa, have used tear gas and batons to disperse thousands of anti-government protesters calling for President Ali Abdullah Saleh to stand down.
They stepped in after pro-government activists clashed with the protesters.
It was the fifth consecutive day of protests inspired by pro-democracy uprisings in Tunisia and Egypt.
President Saleh, who has been in power for almost 32 years, has said he does not intend to continue beyond 2013.
His critics have demanded immediate political change.
Several people were injured in Tuesday's clashes, including an opposition member of parliament, Ahmed Seif Hashid.
The Middle East has seen a wave of anti-government protests this year fuelled by discontent over unemployment, rising living costs, corruption and autocratic leaderships.
They began with the overthrow of Tunisia's President, Zine al-Abidine Ben Ali, last month and reached a new height at the weekend, after Hosni Mubarak of Egypt resigned.
Violence erupted at an opposition rally in the Iranian capital Tehran on Monday, while in Bahrain, security forces have fired tear gas and rubber bullets to disperse dozens of protesters in the capital, Manama.
Related Internet Links
The BBC is not responsible for the content of external sites.