Iraqi defector 'Curveball' Janabi denies WMD claims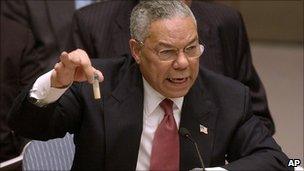 An Iraqi defector whose claims Saddam Hussein had biological weapons helped justify the 2003 invasion has said he lied to bring the ex-leader down.
He said Iraq had mobile biological weapons and clandestine factories.
His false evidence was used by the then US Secretary of State Colin Powell in a key speech to the UN in February 2003.
Mr Janabi told The Guardian he was "shocked" by Mr Powell's speech.
UK intelligence also used agent Curveball to substantiate the case for biological weapons in the British government's dossier.
The revelations follow the publication of former Defence Secretary Donald Rumsfeld's memoirs, in which he said Iraq had no programme for weapons of mass destruction.
The alleged existence of biological weapons and WMD in Iraq was used by US officials as justification for sending troops to topple Saddam Hussein.
Mr Janabi, who has been granted asylum in Germany, said he had been approached by the German secret service, the BND, in 2000 as they sought inside information on Iraq.
He said he was proud of what he had done.
"Maybe I was right, maybe I was not right," he said. "They gave me this chance.
"I had the chance to fabricate something to topple the regime. I and my sons are proud of that and we are proud that we were the reason to give Iraq the margin of democracy.
"I had to do something for my country, so I did this and I am satisfied because there is no dictator in Iraq any more."
The BND later confronted Mr Janabi with a statement from his former boss at the Military Industries Commission, Bassil Latif, that there were no mobile weapons or factories.
He agreed with the statement, but the BND continued to take his claims seriously, he said.
He continued to have meetings with BND officials in 2002 and it became apparent to him a case for war was being constructed.
He was not asked about mobile weapons again until a month before Mr Powell's speech, he added.
After the speech, Mr Janabi said he called the BND and accused it of breaking an agreement that they would not share anything he had told them with another country.
He said he was told not to speak and placed in confinement for around 90 days.
BBC security correspondent Gordon Correra says that, whatever the truth of his motivations, his admission is deeply embarrassing for German, American and British intelligence agencies which all failed to understand for many years that he was lying.