Israel anger at Iran Suez Canal warship move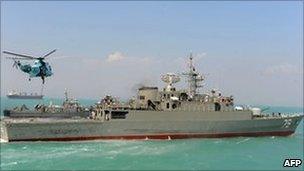 Israel has condemned a decision by Iran's navy to sail two of its ships through the Suez Canal to the Mediterranean Sea.
Foreign Minister Avigdor Lieberman said the world should act against Iran's "recurring provocations".
The vessels were planning to sail to Syria, Mr Lieberman said.
There has been no response from Tehran, but reports last month said Iran's navy planned to send a "fleet" to the Mediterranean Sea for a year.
"During the mission, the fleet of warships will enter the waters of the Red Sea and then will be dispatched to the Mediterranean Sea," Lieutenant Commander Rear Admiral Gholam Reza Khadem-Bigham was quoted as saying in January by the semi-official Fars news agency.
He said the fleet would gain "good intelligence and information of the regions it is due to visit".
A report in Israel's Yedioth Ahronot newspaper said the Iranian vessels were a Mk-5 frigate and a supply vessel.
Iran's Mk-5 frigates date from the 1960s and were sold by the UK.
But Rear Admiral Khadem-Bigham said in January the vessels would include a "home-made" destroyer, likely to be a reference to vessels the country starting producing itself last year, based on the British design.
The first vessel, the Jamaran, was unveiled a year ago.
Mr Lieberman's attack on the plan came as he addressed US Jewish leaders in Jerusalem.
"Tonight, two Iranian warships are meant to pass through the Suez Canal to the Mediterranean Sea and reach Syria, something that has not happened in many years," he said.
"To my regret, the international community is not showing readiness to deal with the recurring Iranian provocations. The international community must understand that Israel cannot forever ignore these provocations."
Mr Lieberman said Iran's navy had not sailed past Israel's coast for years.
The Suez Canal Authority said no Iranian warships had used the canal since 1979 but pointed out that all ships were free to do so as long as they did not come from a country at war with Egypt.
Tensions between Israel and Iran have continued to grow amid Tehran's ongoing nuclear programme, which Iran insists is for peaceful purposes only.
Related Internet Links
The BBC is not responsible for the content of external sites.