Iraq attack: Muqdadiyah car bomb blast kills 13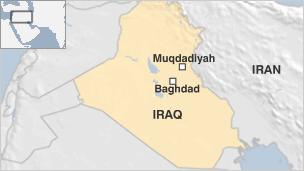 At least 13 people have been killed in a car bomb attack in northern Iraq, local security officials say.
They say that more than 30 people were injured in the blast outside a car sales centre in the town of Muqdadiyah, north-east of Baghdad.
The popular centre was packed with people and vehicles when the bomb went off at about 1800 local time (1500 GMT).
A curfew has been imposed in the town amid fears of more bomb attacks.
While violence has decreased in Iraq in the last few years, there are still frequent attacks, and government officials are often targets.
Last month more than 300 people died in attacks across Iraq.
In addition to those killed by armed militants, a number of people have died in recent anti-government protests in several cities, the BBC's Jonathan Head in Baghdad reports.
The protests have been inspired by mass unrest in Egypt and driven by the dire living conditions millions of Iraqis experience, our correspondent adds.