Bahrain urged to show restraint after bloody clampdown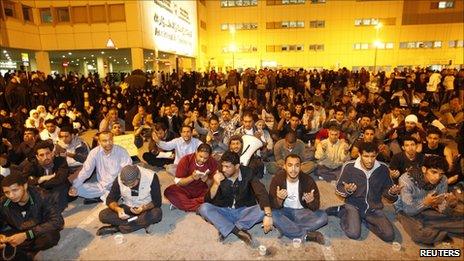 Washington has urged Bahrain to show restraint in dealing with protesters and called for meaningful reform in the small Gulf state kingdom.
Security forces cleared hundreds of demonstrators from a square in the capital Manama on Thursday, leaving four people dead and hundreds injured.
Prayers and funerals are due to take place in the city on Friday.
A pro-government demonstration is also expected to be held, just hours after Bahrain banned public gatherings.
Tanks prowled the streets of Manama on Thursday as the military was ordered to tighten its grip.
Soldiers would take every measure necessary to preserve security, the interior ministry said.
The use of the military is a course that puts the Bahraini royal family into direct confrontation with members of the Shia Muslim majority who make up the bulk of the protesters, the BBC's Middle East correspondent, Jon Leyne, reports from Cairo.
Since independence from the UK in 1971, tensions between the Sunni elite and the less affluent Shia have frequently caused civil unrest. Shia groups say they are marginalised, subject to unfair laws and repressed.
Washington is watching with growing concern as unrest and violence spread across the Middle East, threatening its regional interests, BBC state department correspondent Kim Ghattas reports from Washington.
While Bahrain is tiny, with a population of less than one million, it is home to the US navy's Fifth Fleet and is near another key US ally in the region, Saudi Arabia.
Because of its Shia majority, it is seen by other Arab Gulf states as vulnerable to influence from Iran.
US Secretary of State Hillary Clinton telephoned her Bahraini counterpart, Sheikh Khaled bin Ahmed al-Khalifa, to tell him of her "deep concern" over events.
She urged him to make sure that the prayers and funerals expected on Friday were not marred by violence.
On a visit to the kingdom in December, Mrs Clinton said she was impressed by the commitment the government had shown to walking on the democratic path.
She has not retracted that statement in the wake of the violence but said Bahrain needed real and meaningful reforms, our state department correspondent notes.
But the Bahraini foreign minister argued that police action was necessary to pull the country back from the "brink of a sectarian abyss".
"Police took every care possible," he told a news conference in Manama.
US Secretary of Defense Robert Gates, for his part, said the US had consistently, publicly and privately encouraged political and economic reform in the Arab world.
Countries, he said, now had to "move on with it".
UK Foreign Secretary William Hague also called on Bahrain's government to exercise restraint, as did UN Secretary General Ban Ki-moon.
The army in Bahrain announced it had taken control of key parts of the capital and restored control after the security forces cleared protesters from the area around Pearl Square.
Abdul Jalil Khalil, a senior member of the main Shia party Wefaq, said the deaths and injuries were an "atrocity".
"Whoever took the decision to attack the protest was aiming to kill," he told Reuters news agency.
Ibrahim Sharif, of Bahrain's secular Waad party, told the BBC protests would continue until the country became a "proper, functioning, constitutional democracy".
"We are going to do what's necessary to change this into a democratic country, even if some of us lose our lives," he said.
Related Internet Links
The BBC is not responsible for the content of external sites.