Egyptians celebrate but military starts talking tough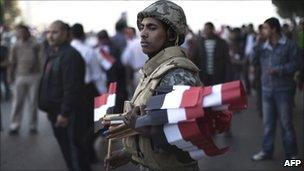 Egypt's ruling military council says it will not tolerate any more strikes which disrupt the country's economy.
State television carried a statement in which the military said strikers would be "confronted".
Egypt's huge public sector has been hit by stoppages by groups including policemen and factory workers.
The army statement came at the end of a day in which millions of Egyptians had celebrated the victory of their revolution one week ago.
Cairo's Tahrir Square was again at the centre of events, with an estimated two million people gathering there to celebrate the removal of Hosni Mubarak and to pay tribute to the 365 people who died in the uprising.
The demonstration was also intended as a show of strength - a reminder to the current military rulers to keep their promise of a swift transition to democracy
By evening, the gathering had become a huge party, with music, singing, dancing, fireworks and food.
But the military statement struck a more sober tone.
The weeks of protests had already damaged the country's economy, with banks, offices and shops frequently closed, and the tourism sector badly affected.
Workers, inspired by the political protests, have also been staging strikes to demand better pay and conditions.
The military statement pointed to "some sectors that have... organised stoppages and protests, disrupting (economic) interests, halting the wheels of production and creating difficult economic conditions that could lead to the deterioration of the nation's economy."
"They will be confronted and legal steps will be taken against them to protect the security of the nation and citizens," the statement threatened.
The warning appears directed only at strikers - the military has previously promised not to take action against the political protests - but the tough words could mark growing impatience with the demonstrators as well.
In one sign of a possible return to normality, authorities on Friday re-opened the Rafah border crossing to Gaza for Palestinians who had been stranded in Egypt by the unrest.
It was open for a few hours on Friday and will open again over the next few days, according to officials.
The border crossing has been mostly closed since 2007 as part of a blockade of Gaza by Israel and Egypt, imposed after Hamas took control of the Palestinian territory.
Hamas authorities in Gaza are hoping the new regime will reopen the crossing more permanently.
Meanwhile, some Islamist websites have posted what is believed to be a response from al-Qaeda's number two, Ayman al-Zawahiri, to the uprising in his home country.
In an audio recording which appeared to have been recorded before the resignation of President Mubarak, Zawahiri said the "reality of Egypt" was one of "ideological, political, economic, financial, moral and social corruption".
He said Mr Mubarak's rule was based on violence and fraudulent elections, in contrast with an Islamic state which would focus on morals, justice and equality.
The recording could not be independently authenticated.