Bahrain unrest: Army withdraws from capital Manama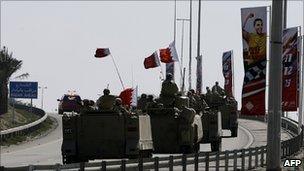 Armoured vehicles sealing off Pearl Square, the focal point of protests in Bahrain's capital, have withdrawn on the orders of the royal family.
Police have returned to fire tear gas at protesters trying to enter the area.
Earlier, the main Shia opposition bloc, Wefaq, rejected an offer from the king to hold talks aimed at ending days of unrest in the Sunni-ruled Gulf state.
The army's withdrawal and the resignation of the government were a condition for talks, the bloc said.
But a Wefaq MP has now told the BBC that the army's withdrawal was positive, and that the government's resignation was not a pre-condition for talks.
At least 50 people were wounded on Friday as the army fired on protesters following the funerals for four killed when troops cleared Pearl Square early on Thursday.
The majority Shia population say they are discriminated against when it comes to housing and government jobs. They have also been calling for greater political rights.
Wefaq, which holds 18 of the 40 seats in the parliament, has boycotted parliament in protest at the violent suppression of the protests.
Bahrain is one of several Arab countries to have experienced pro-democracy demonstrations since the fall of long-time Tunisian President Zine El Abidine Ben Ali in January. Egypt's Hosni Mubarak was forced from power on 11 February.
The order for Bahrain's military to leave the streets of central Manama came from Crown Prince Salman, who is the deputy commander-in-chief of the armed forces.
"His Royal Highness the Crown Prince Salman bin Hamad al-Khalifa, Deputy Supreme Commander of the Armed Forces has ordered the withdrawal of all military from the streets of Bahrain with immediate effect," the government said in a statement.
As the army withdraw from Pearl Square, protesters seeking to enter the square were met by police firing tear gas.
Police also set up roadblocks on routes into Manama from elsewhere in Bahrain.
Troops and armoured vehicles had been stationed in central Manama since protesters were cleared out of Pearl Square early on Thursday.
Protesters have tried to make the square, a large traffic roundabout, a focal point of demonstrations.
US President Barack Obama has phoned King Hamad to urge restraint.
Bahrain, a close American ally and home to the US Navy's Fifth Fleet, must respect the "universal rights" of its people and embrace "meaningful reform", Mr Obama said.
The Obama administration will be more nervous about events in Bahrain than it was in Egypt, given the kingdom's Shia majority, says the BBC's Washington correspondent Kim Ghattas.
The US is nervous of Iran's growing regional influence and sees Sunni-ruled kingdoms like Bahrain and Saudi Arabia as a crucial counterweight.
Bahrain's Shia population has long demanded greater political representation from the ruling dynasty.