Iraq: Bomb kills police in Shia shrine city of Samarra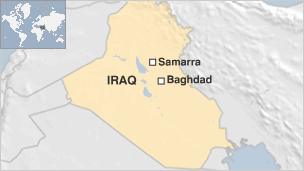 A car bomb detonated by a suicide attacker in the central Iraqi city of Samarra has killed 10 policemen and wounded 16 others, police say.
The victims were part of a special squad sent to Samarra, 60 miles (100km) north of Baghdad, to protect Shia pilgrims during a religious ceremony.
The attack comes nine days after a bomber killed 33 Shias returning from the pilgrimage to the al-Askari shrine.
Attacks on Shia pilgrims have claimed hundreds of lives in recent months.
The gold-domed al-Askari mosque was largely destroyed in a massive bombing in 2006, an attack blamed for starting the 2006-07 wave of sectarian bloodshed.
Overall violence in Iraq has dropped sharply since then, but bombings are still common.