Libya protests: Evacuation of foreigners continues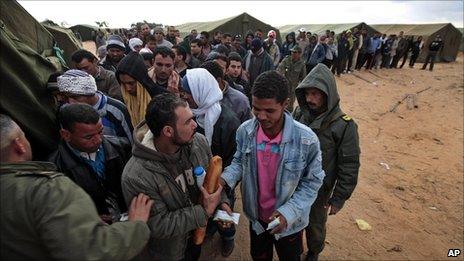 Many foreign governments are evacuating their citizens from Libya, as unrest continues in the country.
There are an estimated 60,000 Bangladeshis in Libya - most of them manual labourers. Their government has not made any evacuation plans, and reports suggest many of the workers have been left to fend for themselves.
One man told Agence France Presse he and his colleagues had been trapped in a desert construction camp and were then abandoned by their foreign employers in the middle of the road.
He said they had tried calling the Bangladeshi embassy in Tripoli but officials had not helped and now they were not answering the phone.
Some people have taken refuge in the Bangladesh embassy in Libya while hundreds more have moved to the Egypt and Tunisian borders, according to a foreign ministry press release on Friday reported by bdnews24.com.
Bangladeshi officials say they are talking to the International Organisation for Migration about a possible evacuation.
Two planes carrying about 250 Bosnians arrived in Sarajevo on Friday from Libya. One evacuee told Associated Press they had been waiting at the airport in Tripoli since noon on Thursday.
"It is really crowded. Five policemen were killed in a human stampede today at the gate," said Sefik Imamovic.
A spokesperson from the Foreign Ministry told BH Radio 1 that there were no Bosnians left at the airport.
A further 150 Bosnians are expected to be arriving by ship at a Turkish port today.
There were an estimated 1,500 Bosnians living in Libya before the unrest began.
Most Brazilians in Tripoli have been evacuated by air, Brazil's foreign ministry has said. Those remaining are staying to watch over installations or provide support to fellow citizens, it said.
The ministry said that 148 Brazilians would be on-board a chartered ship which is currently waiting to dock off the coast near Benghazi.
Brazilian construction company Odebrecht said it has begun to evacuate 200 Brazilian employees from Libya into Malta, while Queiroz Galvao, another construction firm, said it was trying to evacuate 130 Brazilian workers from Benghazi.
Dozens of employees of Brazilian companies Petrobras and Andrade Guterres are also being taken out of the country.
So far, 213 out of 344 Canadians have said they want to leave Libya. Canada's foreign minister says nearly 200 Canadians have been, or are about to be, evacuated on planes and ships arranged by other nations.
A C-17 military transport plane with 156 seats was on its way to Italy from Germany and would fly to Tripoli as soon as Libyan authorities gave permission.
A charter plane from Amman was meant to arrive in Tripoli early on Friday. Canada's CBC reports that it is unclear whether the plane has successfully managed to airlift any Canadians, after one official said it had left Tripoli empty.
The channel also says that another charter plane was due to be leaving Amman for Tripoli soon.
About 30,000 Chinese nationals lived in Libya before the unrest began.
Beijing said on Friday that it had so far evacuated 12,000 Chinese citizens.
"The evacuees were either flown back to China or transferred temporarily to politically stable countries neighbouring Libya," said the Chinese Ministry of Foreign Affairs in a statement.
Early on Friday, 451 Chinese evacuees were flown back to Beijing from Cairo in two planes chartered by the government, according to Xinhua news agency.
More than 4,300 Chinese citizens arrived on the Greek island of Crete on two large passenger liners on Thursday night, and another 4,900 Chinese people are said to be on-board ships at Benghazi, waiting to depart.
There were estimated to be 1.5 million Egyptians living and working in Libya.
Some Egyptians who have fled said they had suffered beatings and torture after Libyan leader Muammar Gaddafi's son accused Egyptians of being behind a popular uprising there, according to Agence France Presse.
Cairo said on Thursday that more than 25,000 Egyptians had fled unrest in Libya and many more were expected in the coming days.
Most Egyptians are returning home by land. On Friday, hundreds of people were waiting or being processed at refugee camps in Tunisia near the border crossing of Ras Jedir.
There were estimated to be around 500-550 French citizens living in Libya when the uprising began.
The French Defence Minister Alain Juppe told Inter Radio on Thursday that only about 200 remained. Some of them wished to stay; the others were tourists and Mr Juppe said the French authorities were trying to help this group leave.
"We have evacuated between 500 and 550 people, French people but also nationals from European countries," said Mr Juppe. "New return flights are being carried out. This evacuation is taking place in good conditions."
Germany has sent three warships with 600 soldiers on board to the sea area between Malta and Libya, reports the German magazine Spiegel.
The magazine said about 160 German nationals are still in Libya.
The German warships are also expected to evacuate other European nationals.
On Thursday, the German flag carrier Lufthansa said it was suspending regular flights to Tripoli until at least Monday.
A spokesman for the airline said Lufthansa planes have brought between 600 and 700 people back to Germany in the past week, using larger planes than usual.
About 210 Greeks returned home on Friday on three military transport planes from Tripoli, Sirte and Sebha, according to Athens News.
Deputy Foreign Minister Dimitris Dollis was on one of the flights, having spent three days in Libya trying to get clearance just to land the planes.
"It was total chaos on every level... It's difficult to get permission when no-one is running the country."
Greece has also helped in the sea evacuation of other foreign workers from Libya, including thousands of Chinese citizens who are currently being accommodated in Crete.
India says it is sending two flights a day starting from Saturday to evacuate some of the 18,000 Indians in Libya.
Evacuations by sea are due to start on Sunday, according to the Hindustan Times, with a chartered ship with a capacity of 1,200 due to reach Benghazi.
The External Affairs Ministry has insisted that "no payment or charge" of any kind is being levied by the government for the evacuation or assisted departure of any Indian national - and that anyone charging fees was acting illegally.
Six thousand Italians were thought to be in Libya before the unrest began.
More than 1,000 Italians have been airlifted and shipped back from Libya over the last two days and Italy hopes to bring back a further 200 Friday, Foreign Minister Franco Frattini said on Friday, according to ANSA news agency.
Italy has two ships off Misrata, to evacuate 150 Italians, although heavy seas are reported to be hampering the ships' entry to port.
Alitalia announced on Thursday morning that it was suspending regular flights to Tripoli.
There were an estimated 30,000 Filipinos in Libya.
President Benigno Aquino has said that 13,000 Filipinos may be evacuated, and a $2.3m (£1.4m) emergency fund set aside. But firm plans are not yet in place.
Philippine Airlines and the national air force are said to be ready and willing to mount emergency flights.
More than 500 Russian nationals have been reported to be working in Libya.
On Friday, a plane with 31 Russian nationals on board arrived in Moscow from the city of Sirte. All the Russians have been working for Russian Railways in Libya.
The foreign ministry in Moscow says that 330 Russian citizens have been flown out of Tripoli and Sirte in recent days.
The emergencies ministry says it is sending additional four aircraft to the two cities.
In addition, a Russian ferry has already left the Italian port of Bari and is due to arrive at Libya's port of Ras Lanuf on Sunday. The boat is expected to evacuate 842 people - including 123 Russian citizens.
A chartered plane, carrying about 200 nationals, took off from Tripoli on Friday for Cairo and another one is scheduled, according to South Korea's Foreign Ministry.
The number of nationals remaining in Libya by the weekend should be around 575, through individual efforts or government-organised evacuations, the ministry was quoted by the Korea Joongang Daily.
About 1,300 South Koreans were in Libya, most of them working for construction companies.
A South Korean warship on anti-piracy duty off Somalia is expected to arrive in Libya next week in case further help is needed in the evacuation process.
There were reported to be about 23,000 Thai workers in Libya.
Thailand is set to start evacuating about 10,000 Thai workers from possible danger in Libya, with 2,000 leaving for Tunisia on Saturday, reports the Bangkok Post.
A second batch of 2,000 will be put on board a ship for Italy "as soon as possible", officials said.
The paper said 2,000 Thai workers had already left Libya as of Thursday.
Tunisia had some 30,000 nationals in Libya. At least 7,000 have been able to leave, according to Tunisian authorities.
Most of them have fled by land, along with thousands of nationals from other countries.
Tunisian authorities, along with the UN High Commissioner for Refugees (UNCHR) have set up a temporary refugee camp near the border for people fleeing the violence in Libya.
Aid groups say people in Tunisia and Egypt have been driving to the border to help those arriving from Libya, with many hosting strangers in their homes.
"We are seeing unprecedented support being offered by local people," said Melissa Fleming, a spokeswoman for the UNHCR in Geneva.
On Thursday, the International Organisation for Migration said that more than 30,000 people had crossed land borders into either Egypt or Tunisia from Libya in recent days.
About 10,000 Turkish citizens have been evacuated so far, President Abdullah Gul said on Friday during a visit to France, reported by Turkish Press.
Four Turkish military cargo planes brought more than 400 Turks home from Tripoli.
A military ship with a capacity of 1,500 passengers was expected to set sail on Friday from Benghazi for Marmaris in south-west Turkey.
Turkish-chartered ferries have also helped evacuate many citizens of other countries from Libya.
Two ferries with a total capacity of 2,000 passengers were en route for Libya, carrying food supplies and security and health personnel.
The country had an estimated 25,000 citizens working in Libya, mostly on construction projects.
Ukraine's government says there were about 3,000 of its citizens in Libya.
A Ukrainian military aircraft flew into Kiev with 163 passengers, 138 people were flown to Kiev by a Ukrainian military plane on Thursday. Another Ukrainian plane landed in Tripoli on Friday. It is expected that more than 80 passengers - including 40 Ukrainian nationals - will be flown out of Libya in the coming hours.
Officials in Kiev also say that a number of Ukrainian nationals will be evacuated from Libya on Greek, Russian and Turkish ferries.
The UK Foreign Office said there were about 500 nationals in Libya, most of them in the Tripoli area.
Prime Minister David Cameron said on Friday that the government "will do everything it can" to evacuate them, stressing that they "need to leave now".
He said action was being taken "right now" to help British oil workers in remote desert areas, and the Royal Navy's HMS York was going to the area.
Six flights have left Libya in the past 24 hours carrying Britons, according to the prime minister, and the frigate HMS Cumberland had evacuated Britons and other foreigners from Benghazi.
Foreign Secretary William Hague said the last government-sponsored flight would leave Tripoli on Saturday and urged any Britons remaining in the capital to go to the airport "at first light tomorrow".
He said HMS Cumberland would probably return to Benghazi on Sunday to collect anyone remaining there but that people still in the desert "are in a more difficult situation".
"We are doing a lot of work on how we can help them. We can't say anything more about that at the moment," he said on Friday.
A ferry carrying US nationals, which had been stuck in Libya because of rough seas, finally set sail on Friday.
The Maria Dolores - carrying 167 US citizens and 118 other foreigners - reportedly left at 1137GMT and is on its way to Malta. Passengers have been on board since Wednesday.
"The ferry carrying American and international citizens from Libya to Malta is finally underway," US State Department spokesman P J Crowley tweeted.
There were an estimated 600 US citizens in Libya before the uprising began, and several thousand dual US-Libyan nationals.
The US is also chartering an aircraft. The State Department on Friday told Americans wishing to board the flight to make their way to Mitiga Air Field where they would be processed on a first-come, first-served basis.
Some 10,000 Vietnamese nationals, mostly construction workers, had been reportedly employed in Libya before the unrest began.
Hanoi says more than 1,300 Vietnamese nationals are already being evacuated from Libya by land to neighbouring countries. They will then be flown home.
Nguyen Ngoc Quynh, director of Vietnam's Department for Overseas Labour Management, has told the Associated Press that the government is now working with foreign contractors to bring the remaining Vietnamese citizens home.
Vietnam has also asked for help in repatriating its stranded nationals, reports say.