Bahrain unrest: Blogger among prisoners freed by king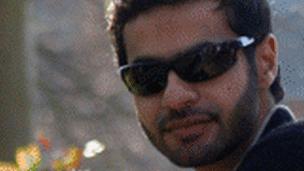 A blogger freed by the king of Bahrain along with dozens of other prisoners has told the BBC World Service he was insulted and tortured in prison.
Ali Abdulemam was arrested in September and charged with being a member of a terrorist cell and spreading false information about the authorities.
He denied wrongdoing, saying he had no sectarian or party political loyalties.
If the government had heeded calls for reform earlier, he said, it might have avoided today's popular upheaval.
"Our demand was to reform the constitution but it just ignored us," he told the BBC on Wednesday.
"I gave interviews in 2005 where I said clearly: the next generation is well-educated and will not accept anything we accepted from our fathers and grandfathers, they will ask for their rights and will limit the power of this royal family because it does not respect the people."
Mr Abdulemam said the first he had learnt about the popular revolt against Bahrain's Sunni Muslim monarchy was when he was released.
His guards had been forbidden to give prisoners news from the outside world.
The Bahraini officials behind his arrest said "bad things" about the Shia Muslim religion, he said, and called him a "bad citizen, disloyal to his country".
"I got tired of telling them that I am a liberal with no link to any sectarian [group] or party in Bahrain, but support all the parties in the country," Mr Abdulemam said.
In prison, he and others were constantly insulted and tortured, he said, adding: "I was allowed to enter a bathroom four times a day, each time for two minutes, whether I was taking a shower or anything else."
After his arrest last year, the blogger was sacked from his day job as an IT specialist for the Bahraini airline Gulf Air.
Talking to the BBC in December, Mr Abdulemam's wife said her husband's "crime" had been to write with a "free pen".
Related Internet Links
The BBC is not responsible for the content of external sites.