Yemen protest: Ruling party MPs resign over violence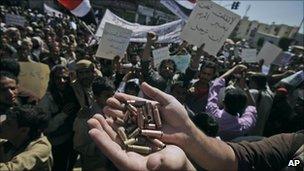 Seven members of parliament belonging to Yemeni President Ali Abdullah Saleh's ruling GPC party have resigned.
They said the move was in protest at violence used to quell demonstrations calling for the president to quit.
At least one person was killed late on Tuesday in the capital Sanaa as supporters of President Saleh tried to break up a protest near the university.
Thousands of protesters have again rallied at a square near the university to call for the president to resign.
The protesters say government supporters fired live rounds at them on Tuesday night.
"The people must have the right to demonstrate peacefully," Abdulaziz Jubari, one of the members of parliament who resigned, told Reuters news agency.
Mr Saleh has said he would step down after national elections in 2013 but that has not been enough for the protesters.
Yemen is one of a number of countries from the Gulf to North Africa that have seen an increase in unrest since uprisings in Egypt and Tunisia unseated the presidents there.
Thousands of people have turned out for regular demonstrations in cities including Sanaa, Aden, Taiz and elsewhere, calling for corruption and unemployment to be tackled and demanding the president steps down.
The protests have often been met by riot police firing teargas and rubber bullets or supporters of President Saleh armed with knives and batons.
The president has lasted in power for 32 years, and has faced a separatist movement in the south, a branch of al-Qaeda, and a periodic conflict with Shia tribes in the north.