Libya: Tripoli residents 'quiet but confused'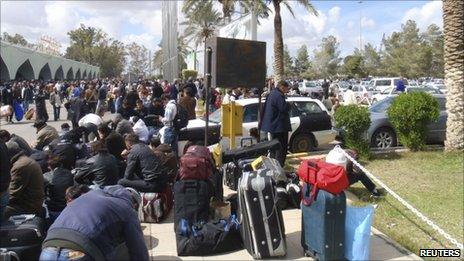 As anti-government protests in Libya continue, an eyewitness in the capital Tripoli gave this account to BBC News.
Tripoli is still quiet for the most part. Everything is still shut down and people don't really know what is happening. They are very confused.
Many are hoping that other people - anti-government protesters and troops who have defected - will come in from the towns or cities around Tripoli, to try to help residents here achieve something.
Let me tell you about some specific incidents that have happened here over the last two days.
In Fashloum, one of the poorest districts in Tripoli, and the scene of a very heavy crackdown, I heard an account of a drive-by-shooting.
It happened on Tuesday morning, when people were lined up to buy bread at one of the few bakeries that have remained open. Three people were killed.
There are also mounting accounts of what appear to be killings by paramilitary troops and bodies being immediately dumped in their trucks or cars.
There is evidence of shootings being cleared up - bullet shells being picked up and blood stains being washed off the street.
I heard of one such shooting in front of the state television headquarters on Monday afternoon.
Four people were killed and one of those was shot at point blank range.
Another witness told me of a similar scenario in Fashloum two days ago, when the anti-government protests first erupted.
I can also tell you about what has now become known as the "wild checkpoint". It lies about 12km outside the capital, at a paramilitary checkpoint stationed there.
They are pointing guns at people and making them get out of their cars. They are thoroughly searching the cars and questioning passengers. There have been some cases of interrogation.
Banks and shops remain closed. But there was a text message sent out this morning to users of two state mobile phone networks.
It told everyone, civil servants and private workers, to go back to work.
In reaction to that text, one Tripoli resident, who works for a foreign company, told me:
"I don't understand how the government expects us to go back to work when there is a mass exodus of expats here and work is at a standstill because of the dangers of driving.
"There have been accounts of so-called pro-government protesters hijacking cars that have foreign number plates."
Another resident in Tripoli told me she hopes the people here don't go to work.
"This can be our way of peaceful protest," she said.
"We all stay home, civil servants and private workers indefinitely, and let Colonel Gaddafi and his sons run a ghost city. Let's see how long they last."
There are two Libyan naval vessels that have been sighted since yesterday, positioned sideways facing Tripoli.
People here believe they are gunships on stand-by.