Yemen's president orders forces to protect protesters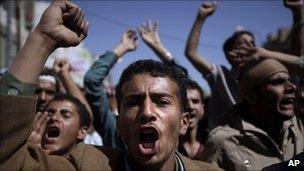 Yemen's President Ali Abdullah Saleh has ordered his security forces to offer "full protection" to anti- and pro-government demonstrators alike.
He has also instructed forces to prevent direct confrontation between the two sides, according to an official statement.
Since the unrest began two weeks ago, 15 people have reportedly been killed.
Nine members of the ruling party have quit over the government's handling of the protests.
"Late this evening.. Saleh instructed all security services to thwart all clashes and prevent direct confrontation between pro- and anti-government demonstrators," read the statement, relayed by the Yemeni embassy in Washington.
"The government... will continue to protect the rights of its citizens to assemble peacefully and their right to freedom of expression."
On Wednesday security forces used tear gas and fired bullets in the air to disperse protesters in Aden, and two demonstrators were reported to have been killed during an attack on a sit-in in the capital, Sanaa.
Thousands have demonstrated daily in these and other Yemeni cities over the past few weeks, demanding that the president step down and that unemployment and corruption be tackled.
They have been confronted not only by security forces but also by armed government loyalists staging counter-protests.
President Saleh has made some concessions to the opposition and promised to step down when his term ends in 2013 but that has not been enough for the protesters.
The president has been in power since 1978, and has faced a separatist movement in the south, a branch of al-Qaeda, and a periodic conflict with Shia tribes in the north.
Yemen is one of a number of countries in the region that have seen an increase in unrest since uprisings in Egypt and Tunisia unseated the presidents there.