Iraq suicide bomber strikes Ramadi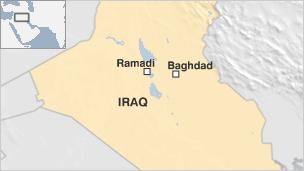 A suicide bomber in the Iraqi city of Ramadi has killed at least eight people, officials say.
The attack injured the deputy governor of Anbar province, Hikmet Khalaf, and killed a number of policemen.
The bombing came hours after Prime Minister Nouri Maliki warned Iraqis not to participate in planned mass protests on Friday against poor services.
He cited security fears and said al-Qaeda and Saddam Hussein supporters organised the protests.
There have been small-scale protests in a number of Iraqi cities in recent months to call attention to poor electricity and water provision, high unemployment and corruption among officials.
The protests have generally stopped short of demanding the government resign over the deficiencies.
In Ramadi, 100km (60 miles) west of Baghdad, at least 15 people were wounded in the suicide attack at a cultural centre.
"We were in the middle of a ceremony to celebrate the anniversary of Prophet Muhammad's birthday when a male suicide bomber came to the door of the room and said 'God is great' and blew himself up," the wounded Mr Khalaf told Reuters news agency.
The number of bombings and attacks in Iraq has dropped substantially from the height of sectarian violence in 2006-07, but they still occur on a regular basis.
Ramadi, 100km (60 miles) west of Baghdad, is the capital of Anbar province, a centre of the Sunni insurgency against US forces until tribal leaders switched allegiance several years ago.
Shortly before the suicide bomber struck, Prime Minister Maliki said that terrorists and supporters of Saddam Hussein and al-Qaeda were behind the protests planned for Friday.
"I call on you to be cautious and careful and stay away from this," Mr Maliki said in a televised address.
"Frankly speaking, they are planning to take advantage of tomorrow's demonstration for their own benefit."
He said he did not dispute the right of people to mount legitimate protests, but said "there are known factions... trying to jump on these legal demands and turn them in another direction that we certainly do not want."
He continued: "You can hold these demonstrations at any time or place you want, except for the place and time of a demonstration which Saddamists, terrorists and al-Qaeda are behind.
"I am warning you about their plans, which are to change the course of [peaceful] rallies and protests, to... murder, riot, sabotage, hard-to-control strife, bombings..."
The interior ministry has already warned that militants may put on police or army uniforms and try to infiltrate the protests to launch attacks.
Two of Iraq's leading Shia clerics, Ayatollah Ali Sistani and Moqtada Sadr have cautioned their followers about the protests.
Moqtada Sadr called on Iraqis to give the government six more months to address concerns about shortfalls in basic services.