Middle East unrest: All quiet in Saudi Arabia?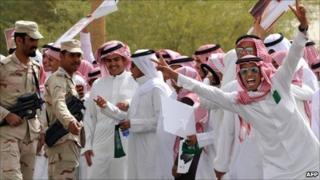 Saudi officials insist that the kingdom will not fall prey to the wave of popular unrest sweeping the Middle East - despite some early warning signs.
In Saudi Arabia, the unrest in the region has sent shock waves through the country's stock market. Analysts say investors are getting jittery about the possibility that the protests may yet spread to the kingdom.
But the Saudi government says it is not concerned.
The evening news on Saudi state television on Wednesday led with meetings of top officials from Saudi Arabia and Qatar. It was business as usual, despite the turbulence that surrounds the Arab world's wealthiest nation.
Just a short stroll across the plaza from the television studios, the minister of information keeps an eye on things. Abdul Aziz Khoja's office has one wall covered with TV screens.
Mr Khoja will admit to concern about what's happening in places like Libya, Yemen and Bahrain.
But what about here? No problem, according to the minister.
"Frankly, we are a very stable country," Mr Khoja says.
It is true that there aren't any huge street protests or overt calls for the king to be thrown out. But there are worrying signs.
The stock exchange, the biggest in the Arab world, has been sliding for days.
John Sfakianakis, an economist with the Banque Saudi Fransi in Riyadh, says panicky investors fear that protest could spread to Saudi Arabia.
"There is fire in Libya, there is fire in Egypt, and there is smoke in the immediate vicinity. There is smoke in Bahrain and, of course, there is smoke in Oman," Mr Sfakianakis says, adding that it is no surprise some investors fear the protest will spread to the kingdom.
Frustrated youth
Saudi King Abdullah announced new measures last week, including unemployment insurance and promises of more jobs in the public sector.
Mr Sfakianakis says it is a start, but not enough to help the Kingdom's biggest challenge - the growing number of young people who are unemployed.
"This is a serious wake-up call to everybody," he says. "You have unemployment between the ages of 15-24 at 39.5%. That is a very big number and they have to address it."
It is the young, some frustrated by the lack of work, others by the lack of real democracy, who are at the forefront of online calls for Saudi protests.
Thousands have signed onto Facebook pages; others are blogging about their discontent.
Information Minister Khoja, who boasts that he was among the first in the cabinet to sign up for social media, says he thinks it is time to engage the country's "sons and daughters".
"We have to talk with them on Facebook, on Twitter, and on YouTube," Mr Khoja says.
"We have to know how they think. They now represent 60% of our population and they are the future of our country."
In fact, almost 70% of the population is under 30, while many senior members of the ruling family are in their 70s and 80s.
Mr Khoja says that he doesn't believe there will be any street protests and he is not worried about his government's image.
He points out that journalists like me can work freely in the country.
"Nobody is coming with you and nobody is telling you what to do or not to do. You can meet anyone," Mr Khoja says.
Evening meeting
I did meet some of those critical of the government at a night time gathering in a tent on the outskirts of Riyadh.
One man spoke excitedly about the uprisings in other nations - and he wondered if it could happen here.
"Now, we are going to win Libya, next Bahrain and Yemen. Oman is going, and then maybe Saudi Arabia," the man said.
In this group is a mix of young men and veterans of battles past, including Abdullah al-Hamid, who has spent years in jail after calling for democratic reforms.
Al-Hamid urged the younger generation to take to the streets. They listened but didn't seem ready to take the risk.
They know al-Hamid's history. They've heard news of the recent arrest of a Saudi Shia cleric who called for change. Websites featuring demands for reform have been blocked.
It is an indication that even though government ministers say they are not concerned that Saudi Arabia may be next, they are watching and listening very carefully.