Yemen: US state department upgrades travel warning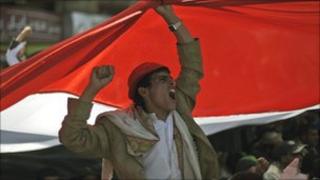 The US has warned its citizens to avoid travelling to the Middle Eastern state of Yemen and says those already there should consider leaving.
The state department said the security threat level was "extremely high due to terrorist activities and civil unrest".
The travel warning comes a day after the UK issued similar advice.
There have been many anti-government demonstrations across several cities in recent weeks, with reports of fatal clashes between police and protesters.
Demonstrators want the resignation of President Ali Abdullah Saleh, who has ruled since 1978.
The protesters want more job opportunities, an end to corruption, and a more even distribution of wealth.
The president has said he will not seek another term in office in 2013 but has vowed to defend his regime "with every drop of blood".
Yemen has also been hit by a separatist movement in the south, attacks by a branch of al-Qaeda, and a periodic conflict with Shia tribes in the north.
Evacuation options 'limited'
The US Department of State said it had authorised the voluntary departure from Yemen of family members of US Embassy staff and non-essential personnel.
The upgraded travel warning follows an attack on Sunday by suspected al-Qaeda militants east of the capital Sanaa, in which four soldiers were reportedly killed.
Unidentified men opened fire on the soldiers as they passed in a truck near Marib, about 170km (110 miles) from the capital, a Yemeni official said.
Earlier this week, rebels say the army fired rockets at an anti-government protest in northern Yemen, killing two people.
"Should a crisis occur, evacuation options from Yemen would be extremely limited due to the lack of infrastructure, geographic constraints, and other security concerns," the state department said.
It also said the US Embassy's ability to assist US citizens in the event of a crisis would be "very limited".
Piracy in the Red Sea, Gulf of Aden and Indian Ocean is also a security threat to maritime activities in the region, the state department added.