Syria unrest: Profile of Deraa and Hawran region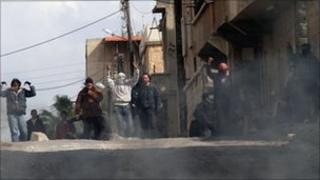 The southern Syrian city of Deraa has been hit by daily protests for the past week against the government of President Bashar al-Assad, posing the greatest challenge to his rule since he took office in 2000 on the death of his father, Hafez.
Located 120km (75 miles) south of Damascus, just a few miles from the Jordanian border, it has long been Syria's gateway to the south.
Deraa is a city that the Syrian government simply cannot afford to lose.
It is the main city of the historic Hawran region, which includes the provinces of Deraa, Sweida and Kuneitra - the last of which is partly occupied by Israel.
The population here - like most of Syria - is overwhelmingly Sunni Muslim. This makes it potentially unfriendly territory for Alawites like the Assad family and their allies.
The area also has some history of local autonomy, which the French colonial authorities encouraged in the 1920s by setting up a Druze state around Sweida.
The population of the three provinces is about 1.3 million, out of Syria's 22.4 million.
But the main challenge to the Assad government would be the loss of control over the Jordanian border.
Jordan's Islamic Action Front has a significant following in the nearby city of Irbid.
This group has close ties to the Muslim Brotherhood, the Syrian branch of which operates in a semi-clandestine manner.
It has never forgiven the Syrian government for its massacre of thousands of Muslim Brothers and civilians in the northern city of Hama in 1982.
The Muslim Brotherhood and other Islamist groups might try to exploit a collapse of government control in Deraa by seeking support from across the Jordanian border. There is no doubt that the President Assad will do everything in his power to prevent this.
BBC Monitoring selects and translates news from radio, television, press, news agencies and the internet from 150 countries in more than 70 languages. It is based in Caversham, UK, and has several bureaux abroad.