Israel passes law revoking citizenship for spying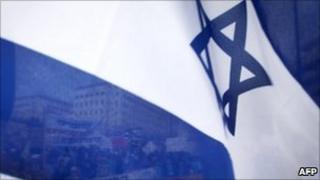 Israel's parliament has passed a law that allows courts to revoke the citizenship of anyone convicted of spying, treason or aiding its enemies.
The bill, which was passed by 37 votes to 11 in the Knesset, was sponsored by Foreign Minister Avigdor Lieberman's hardline Yisrael Beiteinu party.
Mr Lieberman said afterwards: "Without loyalty, there can be no citizenship."
But critics say it is discriminatory towards Israel's Arab minority, which makes up a fifth of the population.
The Association for Civil Rights in Israel (Acri) said the bill showed politicians had "lost sight of a basic concept in democracy... that citizenship is neither a privilege nor a prize but rather a protected right".
'Humiliating and discriminatory'
The amendment to the Citizenship Law of 1952 passed by the Knesset on Monday night has its roots in Mr Lieberman's "no loyalty, no citizenship" campaign during the 2009 elections.
Initially, he pushed for a bill that would have required all non-Jews taking citizenship to swear loyalty to Israel as a "Jewish and democratic state".
But when it proved too controversial for the governing coalition, Yisrael Beiteinu instead sponsored legislation to revoke the citizenship of anyone convicted of espionage, treason or aiding the enemy during war.
"Any person who harms the country cannot enjoy the benefits of citizenship and its fruit," Mr Lieberman said after the vote.
"The law will help confront the phenomenon by which there are those who take advantage of our democracy in order to undermine it, and by which those who are called citizens collaborate with the enemy."
According to the Haaretz newspaper, only people with dual citizenship could be stripped of their Israeli citizenship.
The courts would also be able to revoke the permanent residency of anyone found guilty of assisting a terrorist organisation. This could affect Palestinian residents of occupied East Jerusalem.
Someone convicted of terrorism would also lose their right to all allowances paid by the Israeli state, such as child allowances and welfare.
Acri complained that the new law clearly targeted Israeli Arabs.
"Members of Knesset who voted in support of the law have lost sight of a basic concept in democracy: That citizenship is neither a privilege nor a prize but rather a protected right," said Oded Feller, a lawyer for the group.
"The amendment is not meant to promote national security as is being claimed... but rather it wishes to deliver a humiliating and discriminatory message, according to which the citizenship of Israel's Arab citizens is not self-evident but conditioned," he added.
Mr Feller explained that the Citizenship Law had already allowed the interior minister to revoke citizenship on the grounds of "breach of trust".
Israel's Shin Bet security service "opposed the amendment on grounds that the current legislation provided sufficient deterrence and punishment, and the wording of the amendment was 'too wide' and lacked checks and balances," he added.
The Knesset also voted on Monday to revoke the pension of Azmi Bishara, a former Israeli Arab parliamentarian who fled in 2007, after being accused of helping the Lebanese Shia Islamist group, Hezbollah. He denied the claim.