'Abducted' Palestinian engineer appears in Israel court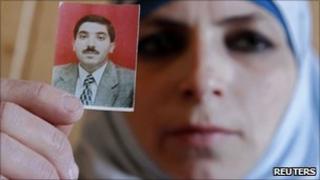 A Palestinian engineer has appeared in an Israeli court after being captured in Ukraine and jailed in Israel.
No charges were laid, but the court extended Dirar Abu Sisi's detention.
Prime Minister Benjamin Netanyahu said Mr Abu Sisi was "a Hamas man" who has provided "valuable information".
Mr Abu Sisi accuses Israel of "kidnapping him for no reason". He also denies any knowledge about a captive Israeli soldier in the Gaza Strip - amid media speculation to that effect.
Sgt Gilad Shalit was captured by Hamas-linked militants in June 2006.
Germany's Der Spiegel magazine speculated this week that Israel may have seized Mr Abu Sisi to try to get information about the soldier.
The authorities say they will charge Mr Abu Sisi - a manager at Gaza's main power plant - next week, his Israeli lawyer Smadar Ben-Natan said on Thursday.
The 43-year-old says he was forcibly removed from a train in Kharkiv, eastern Ukraine, on 19 February for interrogation by Israeli agents.
He said he was handcuffed, hooded and then held in an apartment before being flown to Israel. He said he went a total of 25 days before seeing a lawyer.
His wife - who is Ukrainian - says he had gone to Ukraine to apply for citizenship and move the family there.
On Thursday, the Palestinian ambassador in Kiev, Mohammed al-Assad, called Israel's arrest "an international crime that must be punished".
The Ukrainian government has said it was not involved in the operation and was waiting for an official Israeli explanation.
A partial gag order by an Israeli court has prevented the publication of details relating to this case.