Yemen unrest: Three die in Sanaa clashes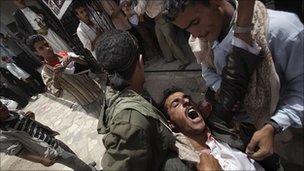 Fresh fighting has flared in Yemen between tribesmen loyal to President Ali Abdullah Saleh and soldiers backing anti-government protesters.
At least three people were killed and 15 others injured in Sanaa after pro-Saleh tribesmen arrived at a barracks occupied by mutinous troops.
There has also been renewed violence in the city of Taiz, where at least 15 people died on Monday.
The European Union has said that a transition of power must begin now.
More than 100 have died since protests against Mr Saleh began in February.
Protesters are calling for the president to step aside after 32 years in power, but he has signalled he has no plans to leave immediately.
A BBC correspondent in Sanaa says the number of protesters there is growing and they have erected tents in the road leading to the president's official home, about 13km (eight miles) away.
In Taiz our correspondent says gunmen in plain clothes have been seen firing from rooftops towards protesters in the city's Tahrir Square.
A doctor in Taiz told BBC Arabic that dozens of injured protesters had arrived at the hospital with gunshot injuries.
"Others [have been] attacked by bricks," he added.
Taiz was the scene of a deadly crackdown on Monday, where demonstrators calling on Mr Saleh to step down were shot by security forces.
The exact cause of Tuesday's shooting in Sanaa was not clear.
However, reports said a convoy of vehicles carrying members of the Sanhan tribe - some of whom remain loyal to the president - arrived at the headquarters of the rebellious army division.
AP news agency, citing security sources, said the visit was an attempt to negotiate with Maj Gen Ali Mohsen al-Ahmar, commander of the 1st Armoured Division.
Various reports suggested anti-government protesters had gathered around the barracks. At some point shots were fired, but it remains unclear who fired first.
The US has been a key ally of Mr Saleh's, but analysts say Washington now appears to be losing patience.
On Tuesday, EU foreign policy chief Catherine Ashton expressed concern about "reports of violent repression, including live ammunition, against demonstrators in Yemen". She said a transition of power "must begin now".
Members of a regional grouping, the Gulf Co-operation Council (GCC), have offered to host talks between Mr Saleh and opposition groups.
But Mr Saleh has been taking an increasingly hard line with the protesters, and has not publicly responded to offers of mediation.
A spokesman for a leading opposition group, Mohammed Qahtan, told the AFP news agency that they welcomed the GCC proposals but required Mr Saleh to agree to leave office immediately before opening talks on reconciliation.
"We have welcomed [the GCC invitation] and said we will attend, but to discuss a transfer of power only," he said.
Mr Saleh's government has accepted an offer to attend talks in Saudi Arabia, but no date has been set.
The opposition coalition Common Forum, which includes the five biggest opposition groups in Yemen, has offered a five-point plan for Mr Saleh to hand over power:
President Saleh resigns and is replaced by Vice-President Abdu Rabu Hadi
Mr Hadi announces a restructuring of the security forces to make them accountable to the government
An interim government is created based on national reconciliation
A new electoral commission is established
Civil liberties are boosted and an investigation is launched into the killing of protesters