Gaza: Israel kills 12 amid cross-border exchanges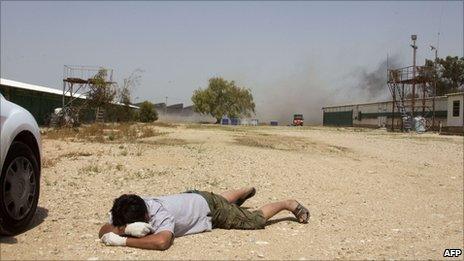 Twelve Palestinians, including three civilians, have been killed by Israeli air strikes in Gaza, doctors say.
The Israeli strikes come hours after Islamist group Hamas said it had brokered a deal for Gaza's militant groups to stop firing on Israel.
However, Israel pounded Gaza with fresh air strikes on Friday and Palestinian militants fired mortars into Israel.
On Thursday, a Hamas anti-tank missile hit an Israeli school bus, seriously wounding a teenager.
Since then, Israel has launched more than 20 raids on the Gaza Strip, killing 14 Gazans - many of them civilians, at least five Hamas militants and one policeman. About 45 people have been wounded.
Meanwhile, an Israeli police spokesman said at least 15 rockets have been fired into Israel during Friday, causing damage but no injuries. This follows more than 50 mortar rounds fired at Israel on Thursday, one of which hit a house.
Hamas's military wing said it carried out some of the strikes, accusing Israel of breaking the ceasefire declaration with its dawn raids. A small PLO faction, the Popular Front for the Liberation of Palestine, also said it fired at Israel on Friday.
Last night, Hamas - which governs the Gaza Strip - met other militant factions and agreed to enforce a ceasefire if Israel also stopped firing.
However neither side seems to have stopped for long, says the BBC's Jon Donnison in Gaza City.
It is not clear whether the fresh violence signals an end to the truce, or whether the firing of rockets was carried out by a Palestinian splinter group that had not signed up to the ceasefire.
Israel says it is responding to the school bus attack on Thursday near the Nahal Oz kibbutz. A 16-year-old boy suffered a serious head wound.
Militants from the Qassam Brigades, the military wing of Hamas, hit the bus with an anti-tank shell. They said it was in response to the killing of Hamas leaders last week.
The bus attack was condemned by the US, EU and UN, which said it was particularly concerned by reports that the Gaza militants had used an advanced anti-tank weapon to target civilians.
On Friday, UN Secretary-General Ban Ki-moon condemned the bus attack and expressed concern over civilian casualties in Israel's strikes. He called for "de-escalation and calm to prevent any further bloodshed".
Several of those killed in Gaza were civilians, including a Palestinian mother and her 21-year-old daughter, as well as a 55-year-old man in the southern city of Khan Younis, Palestinian medics say.
A 50-year-old civilian who had been sitting outside his home died when he was hit by tank fire on Thursday, an official in Gaza said.
The Israeli military issued a statement confirming that "uninvolved citizens may have been harmed" in one operation.
But it blamed Hamas for their deaths, adding that the group "chooses to operate from within civilian populations and uses uninvolved people as human shields".
Four others among the dead were identified as leaders of the Qassam Brigades and two of Friday's victims had been members of the group, Hamas said.
Doctors and Hamas officials also confirmed that a militant commander and two bodyguards had been killed in an air strike early on Saturday.
Last month saw some of the worst violence since Israel launched a major offensive in Gaza in December 2008.
In one week in March, at least 10 Palestinians - including several civilians and children - were killed by Israeli attacks.
In the same period, militants in Gaza fired more than 80 rockets and mortar shells into southern Israel.
Israel says it holds Hamas responsible for all attacks coming out of Palestinian territory, even if it is other militant groups carrying them out.