Century-old Book of Khalid sheds light on Arab unrest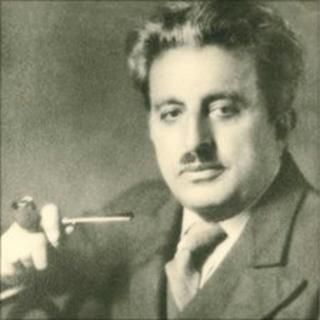 On the 100th anniversary of The Book of Khalid, the first English-language novel written by an Arab, the work seems remarkably relevant to the popular uprisings sweeping the Middle East today.
The Book of Khalid was written by Ameen Rihani, a respected Arab-American intellectual who was born in Lebanon in 1876.
It is the story of two Lebanese friends who migrate to New York.
The hero, Khalid, begins his new life peddling religious trinkets.
He adopts a bohemian lifestyle, but comes to reject America's consumerism and returns to Lebanon to find spiritual satisfaction.
The book offers important insight into the complexity of Arab-American relations.
'Uncanny connection'
"Rihani had this sense at the beginning of the 20th Century that both America and the Arab world were these great forces that would soon be unleashed and would determine future global politics," says Todd Fine, the director of Project Khalid, an effort to promote Rihani's work to a modern American audience.
"The Book of Khalid is about how American values could actually inspire revolution from the Ottoman Empire," says Mr Fine, who is editing a new edition of the book, due to be published at the end of the year.
"In fact the novel even ends with riots triggered by Khalid in Damascus. It is this uncanny connection that makes me believe that if we revisit the relationship between the US and the Arab world through Rihani and through The Book of Khalid we can realise that we don't have tremendous differences."
'Bridging East and West'
Echoes of Rihani's stand against tyranny and human rights violations were evident in the protests in Cairo's Tahrir Square which led to the overthrow of President Hosni Mubarak, says his nephew Ramzi Rihani.
"I think the message is about bridging East and West," he says. "This is why he resonates not only with the Arabs, but with the entire world."
Rihani believed he was uniquely positioned to bridge the two worlds and sought to do so through all his writings.
He immigrated to New York in 1888 at 11 years of age and grew up in Lower Manhattan, in a community known then as Little Syria, just blocks from where the World Trade Center would be built.
He learned English, joined a travelling theatre as a Shakespearean actor, and went to law school until a severe illness forced him to quit his studies.
Although he became an American citizen in 1901, he continued to divide his time between New York and Lebanon, publishing articles, poetry and essays in English and Arabic, rapidly gaining a reputation as one of the leading intellectuals of both worlds.
As an American citizen and poet he travelled throughout Arabia and met most of the Arab kings and leaders of the day.
His unlikely and close friendship with King Abdul Aziz, the founder of Saudi Arabia, is still considered a foundational moment of the American-Saudi relationship.
Rihani, who died in 1940, is often compared to another famous thinker of the period, Khalil Gibran, the author of The Prophet. This book, unlike The Book of Khalid, remains widely available in the US.
Gibran illustrated The Book of Khalid and looked on Rihani as a mentor.
'Pan-Arab activist'
"Rihani's work is attractive to a few niche communities in the US but his real impact is in Arabic literature, culture, politics and thought," says Stephen Sheehi, Director of the Arabic Programme at the University of South Carolina.
Rihani admired the US and thought it could have positive influence on the Middle East, says Prof Sheehi. But he identified most closely with Arab culture and Arab nationalism.
"If we look at all the disparate revolts that are happening in the Arab world now - they all find some sort of fraternity with cultural compatriots in other Arab countries," he says.
"And that's what Rihani was - a pan-Arab activist."
In January this year, Tunisia became the first Arab country to throw out its autocratic leader in a push for greater freedom and democracy.
The demonstration came to inspire another dozen Arab countries grappling with similar issues.
Egyptians toppled President Mubarak; Libyan rebels are locked in a struggle against Col Muammar Gaddafi; Syrians have taken to the streets for the first time in decades; and several Gulf monarchies are facing protests.
The Book of Khalid articulates their struggle, says Clovis Maksoud, the former Arab League Ambassador to the UN.
"The seeds of what he has planted are now beginning to bear some fruit," says Ambassador Maksoud.
"Whether it is a direct relationship or not, this is a moment when The Book of Khalid has become more relevant. Young people need to recover the line of thought of Arab nationalism as the authentic expression of political progress, rather than sectarianism or Islamic fundamentalism."