Death toll mounts as Israel strikes again at Gaza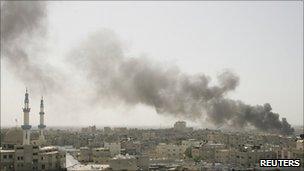 Four Hamas militants have been killed in Israeli air strikes on the southern Gaza Strip.
The deaths bring the toll from several days of Israeli strikes to at least 18, including several civilians. Dozens of people have been wounded.
Israel says it is responding to a Hamas missile fired at a school bus, an attack it said had "crossed the line".
The military wing of Hamas said that attack had been in response to the killing of Hamas leaders last week.
Israel's strikes and the dozens of rockets and mortars fired by militants across the border represent the worst violence in Gaza in two years.
In an early morning attack, Israeli planes hit a vehicle in the south of Gaza killed a senior Hamas commander and two of his aides, both Hamas and Palestinian medical workers said.
Hamas named the commander as 29-year-old Tayser Abu Snima, a leader of the militant group in Rafah.
The Israeli military also said it targeted a smuggling tunnel under the Gaza-Egypt border and a lorry carrying ammunition.
Later, another strike killed another militant.
Militants in Gaza fired at least another 20 rockets and mortars into Israel on Saturday following an overnight barrage.
No Israeli casualties were reported.
Israel said its new - and still experimental - Iron Dome missile defence shield intercepted one rocket fired at the southern city of Beersheba.
On Friday, the system intercepted three Grad rockets fired at the city of Ashkelon.
The exchanges came despite Hamas, the Islamist group which controls Gaza, saying on Thursday it had brokered a deal for the territory's militant groups to stop firing on Israel.
Hamas's military wing said it carried out some of the attacks on Israel, accusing Israel of breaking the ceasefire with its own raids.
A spokesman for the group, Sami Abu Zuhri, said Israel was responsible for the escalation of violence and that if Israeli strikes continued, Hamas would step up its response.
On Friday, Israeli Prime Minister Benjamin Netanyahu vowed retaliation for the attack with an anti-tank missile on a school bus near the Nahal Oz kibbutz.
"The attack on a school bus crossed the line... Whoever tries to hurt and murder children, his blood will be on his own head," Mr Netanyahu said.
A 16-year-old boy suffered serious injuries and the driver was also wounded.
Militants from the Qassam Brigades, the military wing of Hamas, hit the bus with an anti-tank rocket.