Yemen unrest: Gulf Arab plan would see president quit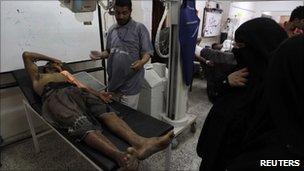 Yemen's embattled leader would resign and hand over to his deputy in return for guarantees of protection, under a plan drawn up by Gulf Arab mediators.
Details of the plan to end escalating unrest in Yemen, where President Ali Abdullah Saleh has been in power for three decades, were leaked to the BBC.
The plan foresees an interim government being formed to oversee elections.
But with Mr Saleh's position ambiguous, any resolution still seems far off, a BBC correspondent reports from Yemen.
In theory, Mr Saleh has agreed to resign but he has also repeatedly said that he cannot abandon his people.
Mr Saleh had welcomed the Gulf Co-operation Council's (GCC) offer of mediation, then dismissed it, then welcomed it again, our correspondent says.
A diplomat in the Yemeni capital Sanaa says these mixed messages are a clear sign that Mr Saleh does not want to step down.
The GCC plan sees Mr Saleh handing powers to his vice-president in return for "guarantees of protection" for both the president and his family.
The new interim government would be formed from "all streams of the Yemeni nation".
Arab states would mediate, work out details and eventually fly Yemen's leaders to Riyadh to sign the deal.
Some believe the GCC initiative has already been seriously crippled by President Saleh's dismissive remarks about it, our correspondent says.
Others are more optimistic and say he is simply trying to negotiate the best possible exit, and the best possible security guarantees for his family members, many of whom hold powerful positions and are reported to be putting pressure on him to stay.
"All sides are putting the country at risk of civil war and they need to come to an agreement not in days, but in hours," says Abdel Ghani al Iriyani, a political analyst based in Sanaa.
"We have tanks facing the streets of Sanaa, the situation is becoming increasingly hard to control."
However, the proposal is unlikely to satisfy the protesters, our correspondent says. They have been calling for the prosecution of Mr Saleh and his family members, many of whom hold powerful government and military positions.
On Sunday, GCC foreign ministers plan to hold an extraordinary meeting in Riyadh to discuss developments in Yemen and the prospects of a dialogue.
Many in Yemen fear that unless the sides come to the negotiating table soon, the window of opportunity for a peaceful solution will close.
Related Internet Links
The BBC is not responsible for the content of external sites.