Israel's Lieberman closer to corruption charges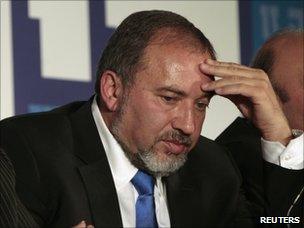 Israel's attorney general is considering charging Foreign Minister Avigdor Lieberman with corruption.
An indictment on charges of fraud, money laundering, breach of trust, and tampering with a witness was being drafted, the justice ministry said.
Mr Lieberman will have a chance to argue his case in a final hearing before a charge sheet is issued.
In a speech to members of his hard-line Yisrael Beiteinu party on Wednesday evening, he denied any wrongdoing.
"I know and you know that I always acted in accordance with the law, and there is no reason for worry," he said.
"After 15 years, I finally will have an opportunity to prove that I acted lawfully," he added. "As you know, with me my word is my bond."
He has pledged to step down as both a minister and MP if charged.
Yisrael Beiteinu is the second largest party in Prime Minister Benjamin Netanyahu's coalition government and the third largest in parliament, and his dismissal or resignation could force an election.
In a statement, the Israeli justice minister said the allegations against Mr Lieberman involved "millions of dollars" and covered the period that he served as a member of parliament and minister of strategic affairs, between 2001 and 2008.
A final decision on whether to press charges would be taken only after Mr Lieberman had had an opportunity to respond to the allegations at a hearing with the attorney general, Yehuda Weinstein, it added.
Such a final hearing has yet to lead to the dropping of serious charges against a minister.
Mr Weinstein has been looking into Mr Lieberman's case for more than a year and a half, since police recommended charging the 52-year-old.
They believe he received more than $2.9m (£1.8m) from businessmen, which was allegedly laundered via a series of shell companies and fictitious bank accounts overseas.
The breach of trust allegation relates to the case of Israel's former ambassador to Belarus, who is said to have showed Mr Lieberman secret documents from the police investigation against him.
He will not be charged with bribery, as the police recommended.
If convicted of money laundering, he could face 10 years in prison.
Israel's leadership has been rocked by scandals in recent years.
Former Prime Minister Ehud Olmert resigned under a cloud of several corruption cases against him, and his finance minister is serving a prison term for embezzlement.
Last month, Former President Moshe Katsav was sentenced to seven years in prison for rape and other sex offences.