Little sympathy in Cairo for Mubarak family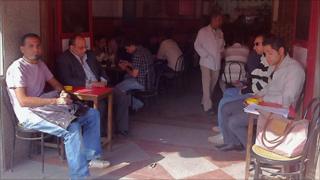 Cairo's cafes have been buzzing with the news that the former president, Hosni Mubarak, and his two sons have been detained for questioning on allegations of corruption, says the BBC's Angy Ghannam.
Sitting in a cafe overlooking Cairo's now-famous Tahrir Square, a group of people have begun a lively discussion over the destiny awaiting their ousted president.
They have watched historic developments unfold on the television mounted on the wall that is kept permanently-tuned to an Egyptian news channel.
There was delight when customers heard that former President Hosni Mubarak and his two sons were detained for 15 days pending investigations by the public prosecutor.
"This is a great step in the right direction and it will boost people's trust in the [ruling] armed council and improve the image of the army," says Ashraf Wagdi while sipping his tea.
"We were really scared that only lower-down officials would be tried while Mubarak and his family would escape."
There is little sympathy here for the former ruler, particularly after he released an audio statement on Sunday strongly denying any wrongdoing.
"The public prosecutor's decision to keep the Mubaraks in custody is the best answer to that message," says a young accountant, Ahmed Mahmoud.
'Have mercy'
The heated debates have spilled over onto the pavement outside the coffee shop, which now resembles Speakers' Corner in London's Hyde Park.
Only one old woman has kind words for the 82-year-old former president, who is said to be in an unstable condition in hospital after suffering a heart attack.
"Mubarak is old and sick. We must have mercy," she says. However, she is quickly shouted down.
"Why didn't he have any mercy for us when we were suffering from oppression, injustice and corruption every single minute?" replies a school-teacher, Ashraf Mersal.
"Mubarak did not feel for his people, some of whom were eating from garbage, living in graveyards, and killed by rockslides," adds Nasser Mahmoud. "He made our hearts cold just like his."
Along with both his sons, Mr Mubarak is being held for 15 days, while an inquiry continues into alleged power abuse and embezzlement of public funds.
The ousted president and his younger son, Gamal, are also accused of ordering the killings of protesters during the 18-day uprising that started on 25 January.
Many Egyptians have already watched a YouTube video that was posted online showing a crowd taunting and mocking the Mubarak brothers as they arrived for questioning in Sharm el-Sheikh on Tuesday.
There were calls for the men to be transferred to a police car from their private vehicles.
Later, social media - now a mainstream source of information in Egypt - picked up on their removal to Turah prison, on the outskirts of Cairo.
Facebook postings and blogs celebrated the development. "Finally, this day has come and we saw it," one comment read.
While Gamal Mubarak, the politician son, has never been popular among Egyptians, who believed his father wanted to hand him the reins of power, popular opinion has only recently turned against his businessman brother, Alaa.
Sympathy was high for him when his 11-year-old son died suddenly last year.
Both brothers are widely seen as symbols of the abuse of power.
Darkness removed
Relations between people and the ruling military council have greatly improved with the judicial steps in the past 48-hours.
In clashes early on Saturday, one protester was killed and dozens injured when the army tried to disperse a sit-in at Tahrir Square calling for prosecutors to take action.
It had been thought that senior generals would not prosecute their former long-time leader.
"Not long ago the picture was really dark, but today I see that the army managed to remove lots of darkness and things look really better in my eyes," one man says.
The busy Tahrir roundabout is now clean again and traffic is flowing normally after soldiers joined by some activists removed barbed wire and barriers.
Banners criticising the army have been replaced with new ones declaring feelings of solidarity with its efforts.
The Revolution Youth Coalition has announced it will suspend plans for a million-person march on 15 April. It is keen to give the army a chance to prove that it can protect a revolution which many people still see as incomplete.
"I am starting to smell the breath of freedom and I see my country reborn and its citizens have dignity," says one woman taking pictures of her children in the square.