Frustrated Justin Bieber 'pulled into' Israel politics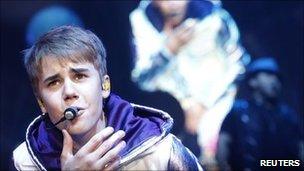 Pop heartthrob Justin Bieber is set to perform in Israel after a three-day visit tarnished by frustration at the paparazzi and being, in his words, "pulled into politics".
On Monday, Bieber told Twitter fans he was "looking forward to this week".
By Tuesday he was telling photographers they "should be ashamed" and he would suspend tweeting after an apparent row with the prime minister's office.
He will give an outdoor concert in Tel Aviv on Thursday evening.
The 17-year-old Canadian singer had included a stop in Israel as part of a worldwide tour and had planned to spend the week sightseeing.
But besieged by adoring young fans and hounded by the country's notoriously aggressive press pack, Bieber complained in tweets of being "superfrustrated" and retreated to his hotel, expressing his anger in a tweet: "Staying in the hotel the rest of the week u happy?"
But the visit encountered more controversy when a meeting between Prime Minister Benjamin Netanyahu - nicknamed "Bibi" - and the young star apparently fell through after Bieber refused a request from the PM to invite Israeli children affected by Palestinian rocket fire in Israel's south.
"We received a request from Bieber to meet with the prime minister. Netanyahu asked to have children from the south attend the meeting in order to encourage them and create a PR effect. The prime minister does not see this as a political issue," Mr Netanyahu's office said in a statement, according to Israel's Ynet News.
The meeting, reportedly scheduled for Wednesday evening, never happened.
In reported comments, sources in the singer's production team denied he had ever asked to meet the prime minister, saying the request had come from Mr Netanyahu - and the singer's manager Scooter Braun even publicly insisted no meeting had ever been planned.
But Bieber alluded to some kind of diplomatic difficulty in a tweet, saying: "I want to see this country and all the places ive dreamed of and whether its the paps or being pulled into politics its frustrating".
Related Internet Links
The BBC is not responsible for the content of external sites.