Bahrain government moves to disband Shia opposition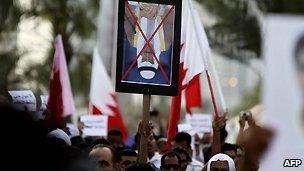 The government of Bahrain has gone to court seeking to disband two Shia opposition groups.
State media said the ministry of justice and Islamic affairs had "filed a lawsuit to dissolve the Islamic Action Association and al-Wefaq".
The two groups were accused of violating the constitution and "harming social peace and national unity".
The government has used force to put down protests calling for reform of the Gulf state's Sunni monarchy.
Bahrain imposed emergency rule last month after weeks of anti-government protests in the kingdom, where many Shias accuse the monarchy of discrimination.
More than 25 people have been killed in the unrest.
Rights groups say the government has since detained more than 400 people - including human rights activists, doctors, bloggers and opposition supporters.
The daughter of prominent activist Abdulhadi al-Khawaja has said she will continue with a hunger strike she began earlier this week until her father, husband, brother-in-law and uncle are released.
They were arrested last weekend.
"In our family we were always taught that freedom is valuable and one should make sacrifices for the sake of freedom, and this is the sacrifice I am making for my family and my country," Zainab al-Khawaja told BBC Arabic.
Al-Wefaq won 18 of the 40 seats in the elected parliament last year but the members resigned their seats in protest over the government crackdown.
The parliament has little power and the cabinet is appointed by the king.
The unrest started on 14 February, when protesters - emboldened by uprisings in Tunisia and Egypt - took to the streets urging democratic reform.
Some called for the overthrow of the monarchy.
The escalating protests prompted the government to impose martial law and invite troops from Sunni-ruled neighbours such as Saudi Arabia and the United Arab Emirates.
Bahrain accuses Iran of fomenting the unrest - a charge Tehran denies.
Related Internet Links
The BBC is not responsible for the content of external sites.