Syria: President Bashar al-Assad forms new government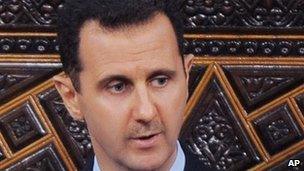 Syrian President Bashar al-Assad has formed a new government under recently-appointed Prime Minister Adel Safar, state media have announced.
The previous government resigned after protests calling for reform broke out last month in a number of cities.
Meanwhile, the US has accused Syria of accepting help from Iran to crack down on protests - a claim denied by Syria.
The unrest is seen as the biggest challenge to Mr Assad, who inherited power from his father in 2000.
About 200 people have died in the protests against his rule and hundreds more arrested.
State TV said that many people detained over the protests would be released, although the exact number was unclear.
"The president has decided to free all those held against the backdrop of recent events, except those who committed criminal acts against the homeland and its citizens," state TV said.
US State Department spokesman Mark Toner said there was "credible information" suggesting that Iran has been helping Syria to quell protests.
"If Syria's turning to Iran for help, it can't be very serious about real reform," Mr Toner told reporters.
Syrian authorities denied the accusation, and have challenged the US government to produce evidence. The Iranian foreign ministry has also denied the claim.
The BBC's Paul Adams in Washington says Syria and Iran have a longstanding security relationship, so perhaps there is nothing terribly surprising about these allegations, despite the denials.
But the willingness of US officials to talk about them, if rather vaguely, does suggest that Washington is anxious to send a message to Tehran not to exploit regional unrest, our correspondent says.
In a separate development on Thursday, state media reported that snipers had fatally shot a soldier and wounded another as they patrolled the coastal city of Baniyas.
At least 13 people, including nine soldiers, were killed in clashes during anti-government demonstrations there on Sunday.
Dozens more have reportedly been injured in Baniyas in clashes with security forces since then.
Human rights campaigners say hundreds of people across Syria have been arrested, including opposition figures, bloggers and activists.
Mr Assad blames the violence in recent weeks on armed gangs rather than reform-seekers and has vowed to put down further unrest.
Mr Safar, formerly agriculture minister, was appointed prime minister after the government of Naji al-Otari resigned on 29 March.
Intelligence official Ibrahim al-Shaar was named interior minister and Mohammad al-Jililati, head of the Damascus Stock Exchange, was appointed finance minister, Reuters news agency said, quoting the official government list.