Iraq raid on Iranian exiles' Camp Ashraf 'killed 34'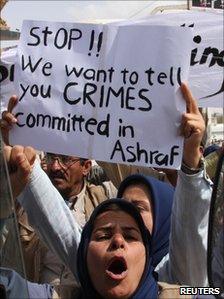 The United Nations says 34 people were killed during an Iraqi army raid last Friday on Camp Ashraf, the base of an Iranian exile group.
It is the first independent report of the death toll after the clash between the army and members of the People's Mujahideen Organisation of Iran (PMOI).
The figure matched those reported by the PMOI. The Iraqi army had said three people died.
This week Iraq said the PMOI must leave the country by the end of the year.
The group, which is considered a terrorist organisation by the US and Iran, has been based in Iraq since the 1980s.
UN human rights spokesman Rupert Colville said a team of observers had seen 28 bodies at the camp and that most had been shot.
"It's clearly a very serious incident and we are trying to get more information," Mr Colville said.
He said six bodies had not been found.
A Western diplomat in Baghdad said three bodies appeared to have been crushed to death, likely from being run over by a car, according to the Associated Press.
Iraqi officials said the army entered Camp Ashraf - in Diyala province north of Baghdad and home to about 3,500 people - last Friday to confront stone-throwers, and said the clashes were limited.
But the PMOI said the raid was a full-scale military assault with armoured vehicles, and said 300 others had been injured.
The BBC's Imogen Foulkes in Geneva says UN observers had been asking to visit the camp for five days, and were finally allowed in on Wednesday.
Our correspondent says that observers found a number of women among the dead, and that many more were reported injured.
The Iraqi defence ministry has said it will launch an investigation into the operation.
More than 100 European parliamentarians have signed a statement urging the US and the UN to help protect those living at the camp.
The PMOI, also known as Mojahedin-e Khalq, was welcomed in the 1980s by then-President Saddam Hussein, who was fighting a war against Iran. He funded and armed the PMOI, which fought alongside Iraqi troops.
In 2009, the US military handed responsibility for the camp to Iraq's Shia-led government, which has repeatedly vowed to close it.
Earlier this week, Iraq said the PMOI must leave Iraq by the end of the year.
"This organisation must be removed from Iraqi territory by all means, including political and diplomatic, with the co-operation of the UN and international organisations," Iraqi government spokesman Ali al-Dabbagh said in a statement.