Israel intellectuals and artists back Palestinian state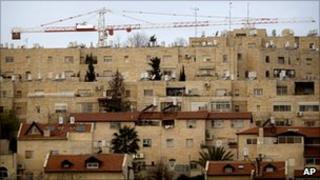 Dozens of Israeli intellectuals and artists have signed a petition calling for a Palestinian state based on 1967 borders and an end to the occupation.
The signatories include 16 winners of the Israel Prize, the country's highest civilian honour. Among them are rights pioneer Shulamit Aloni, historian Yehuda Bauer and sculptor Dani Karavan.
The petition also backs the Palestinian drive for recognition by the UN, in the absence of progress in peace talks.
Israel opposes any unilateral move.
The statement, released on Wednesday, calls for an Israeli pullout from the West Bank, where settlements and the area they take up cover 40% of the territory.
"The complete end of occupation is a fundamental condition for the freedom of both peoples," it says.
Two-state solution
The laureates plan to sign the petition - also inked by several dozen other Israeli artists and intellectuals - on Thursday in front of the building where the state of Israel was proclaimed in May 1948.
Earlier this month, a group of former Israeli security chiefs and business leaders also presented a proposal - called the Israeli Peace Initiative - to re-start stalled peace talks with the Palestinians.
The moves come ahead of plans by the Palestinians to ask the United Nations General Assembly to recognise an independent Palestinian state within the borders that existed before the start of the 1967 Six Day War. This includes the West Bank, Gaza Strip and East Jerusalem.
Israeli Prime Minister Benjamin Netanyahu has agreed to the principle of a two-state solution; however, the two sides are nowhere near agreement on most of the core issues.
US-brokered talks collapsed within weeks of their launch in September in a dispute over continued settlement building in the occupied West Bank.
Almost 500,000 Jews live in settlements on occupied territory. The settlements are illegal under international law, though Israel disputes this.