Syrian opposition figure Mahmud Issa 'arrested'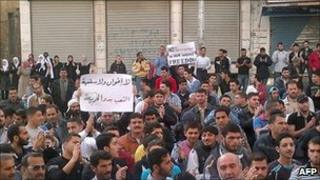 The Syrian authorities have arrested a prominent opposition figure, human rights activists say.
Security services reportedly took Mahmud Issa from his home shortly after he gave an interview to al-Jazeera TV.
Meanwhile, President Bashar al-Assad was expected to lift emergency measures that have been in place for nearly half a century.
Authorities also sacked the security chief in Baniyas, where several people have died in a security crackdown.
The official, Amjad Abbas, was spotted in a video of the violence, activists said.
The move follows the earlier dismissal of the governors of Deraa and Homs, which have also seen major demonstrations.
Several thousand students turned out for fresh protests in Deraa on Wednesday, the Associated Press news agency reported, while student protests were also reported in the northern city of Aleppo.
Confusing signals
Mr Issa, a professor of English and known left-wing activist, has previously spent total of 11 years in Syrian jails.
In his interview with al-Jazeera, he called for an investigation into the death of a brigadier general who was reportedly killed along with several relatives during protests in Homs on Sunday.
The government has claimed that they were shot dead by "armed gangs", whom it blames for recent unrest.
On Tuesday, the government approved the lifting of Syria's current emergency laws, while also passing legislation that obliges people to get permission before they engage in protests.
Earlier, the interior ministry had called on people to refrain from demonstrating altogether.
Even so, protests were reported overnight in several places, including a suburb of the capital, Damascus.
The BBC's Owen Bennett-Jones in neighbouring Lebanon says the Syrian government has been giving confusing signals about how much it is willing to make concessions, and the internal debate about how to react to continuing protests looks like it could continue for some time.
President Assad was expected to fast-track legislation lifting the emergency laws, bypassing parliament, al-Watan newspaper reported.
Our correspondent says the opposition now appear to be focused on organising another big demonstration after Friday prayers at the end of the week.
Activists say about 200 Syrians have died since the unrest began more than a month ago.
It follows popular uprisings in a number of other Arab countries over recent weeks.
Syria is being watched closely because of its influential role it plays within the Middle East.
Britain, which is advising against all but essential travel to Syria, on Wednesday urged British citizens to "consider leaving by commercial means".