Iran sacking row hints at Ahmadinejad power struggle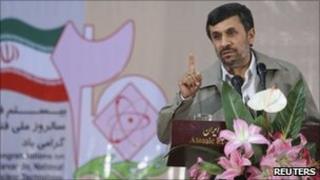 Iranian President Mahmoud Ahmadinejad has come under pressure to reinstate intelligence minister Heidar Moslehi in an apparent internal power struggle.
Mr Ahmadinejad accepted Mr Moslehi's resignation on Sunday, but Supreme Leader Ayatollah Ali Khamenei quickly ordered that he stay on in the job.
Over two-thirds of Iran's 290 lawmakers signed a statement on Wednesday warning Mr Ahmadinejad to obey the order.
Analysts say Iran's clerics view Mr Ahmadinejad as grabbing too much power.
"Replacing the intelligence minister... is not in the country's interests at all," said the parliament statement, which was read on state radio.
"You are expected to follow the leader... in supporting the intelligence minister," it added, according to a translation by the AP news agency.
Although no official reason was given, correspondents say Mr Moslehi appears to have been sacked after he dismissed an official with close ties to Mr Ahmadinejad's confidant, Esfandiar Rahim Mashaei.
Mr Mashaei - whose daughter is married to the president's son - has previously angered Iranian hard-liners with his opinions.
Shortly after the disputed re-election in 2009, Mr Ahmadinejad bowed to pressure from the supreme leader to abandon Mr Mashaei as his choice for first vice-president.
The current tensions show a potentially widening gap between Mr Ahmadinejad and Ayatollah Khamenei, who has shown displeasure with the president's overreaching ambitions in the past.
But the Iranian president still has highly influential backers, including the Revolutionary Guard, which has sway over crucial areas such as Iran's nuclear programme and oil industry.