Bahrain activist Abdulhadi al-Khawaja 'on trial'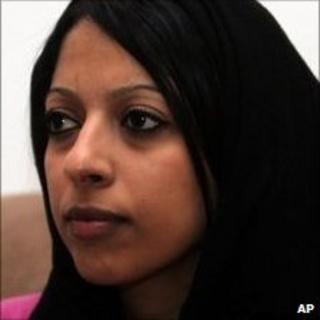 A leading Bahraini human rights activist, Abdulhadi al-Khawaja, is standing trial in a military court, his daughter Zainab believes.
She said he told her the date, time and place of the trial, but when family members came to the court officials denied any knowledge of the case.
Mr Khawaja had called for the country's leaders to be held to account after a brutal crackdown on recent protests.
He was seized from his home with two sons-in-law earlier this month.
Zainab al-Khawaja ended a ten-day hunger strike after international activists said they needed her to speak up for those detained in the crackdown.
The family was turned away from the court on Thursday morning, although Mr Khawaja had pleaded with them to bring him fresh clothes in time for his appearance, the 27-year-old said.
"My father is a very strong man. He used to smile after being beaten-up," Mr Khawaja's daughter told the BBC.
But in a recent telephone conversation his voice was very weak and he kept telling his family the oppression was great, Ms Khawaja said.
"It was something that made me and my whole family very, very scared for him," she added.
Human rights groups and Mr Khawaja's family say he was beaten and arrested after masked and armed police entered their home on 9 April.
Demonstrators, mostly from the country's Shia majority, have taken to the streets since 14 February in a series of escalating protests calling for democratic reform.
Some are also calling for an end to the rule of the al-Khalifa dynasty.
The uprising prompted the government to impose martial law and invite troops from Sunni-ruled neighbourhoods.
More than 400 activists and protesters have been arrested in recent weeks, Human Rights Watch reports.