New Egyptian minister promises shifts in foreign policy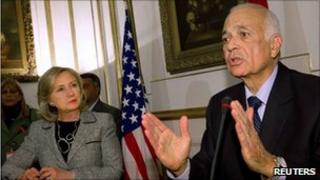 Egypt has long been an important strategic ally of the West and Israel, but there is pressure to change its international relations after the country's revolution, reports the BBC's Yolande Knell in Cairo.
During Egypt's revolution, reformists' calls were not just for domestic change, but a new direction in foreign policy.
There is a strong sense among Egyptians that their nation is no longer the influential player in the Arab world and Africa that it once was.
"We are an old, civilised country. We have to have a different vision to America and Europe and we deserve respect all over the world," says Ayman, who sits in a smoke-filled Cairo coffee shop playing backgammon.
"We have not had a clear strategy for the past 30 years," adds his friend, Rani. "Especially after our revolution, we need to be more supportive of Palestinians, of the Islamic world and the Arabs."
The message has got through to the corridors of power. In the Foreign Ministry, where Nabil el-Arabi has just taken over, he is aware that he must differentiate himself from his predecessors whose portraits line the walls.
"We have made it very clear from the beginning of this government that has now been in power for about six weeks, that we are turning a new page in our foreign relations," he tells me. "We are reviewing all our major interests in foreign policy."
Israel's worries
Egypt's peace treaty with Israel has long been a cornerstone of its regional relationships. It also helped make the country a key strategic ally of the West and bring in $1.4bn a year in US military and economic aid.
While the new military rulers promised to uphold all existing agreements soon after taking over, officials have since seemed unconcerned about Egyptian activists angry protests outside Israel's embassy in Cairo. These called for a break in diplomatic ties and more action to help Gaza.
Israeli prime minister, Benjamin Netanyahu, has expressed nervousness about recent developments next-door.
"Now we must do our best to stabilise, not to be worried only this is not policy," says former Israeli envoy to Egypt, Amos Gilad. "We are doing a lot but it's better not to talk about it. People say it can be interpreted negatively."
When I ask Mr el-Arabi whether Israel's concerns are justified, he replies emphatically, "no, loudly and clearly, no. All treaties are respected."
He insists that Egypt will continue to play an important role in solving the Arab-Israeli conflict.
"It is time to stop managing the conflict, it's time to end the conflict, he says. "The two sides have sat together many times and discussed everything. They know where they stand and what they can accept so it's time to strike a deal."
Rivalries aside
As Egypt seeks to open a new chapter in its international relationships, it has also reached out to Iran, a longtime regional rival. In his first news conference, Mr el-Arabi stressed it was "not an enemy state".
While formal discussions have not yet taken place, there is speculation that the two countries, which severed diplomatic relations after Iran's 1979 Islamic revolution, could eventually reopen embassies.
Cairo has welcomed communication with the Lebanese political, social and militant group, Hezbollah following tensions over a spy ring two years ago.
The prime minister is also planning trips to three Nile basin states, in a fresh effort to end a dispute over water sharing.
However the uprisings in other Arab states, where Egypt might be expected to resume its leading regional position, actually pose a dilemma.
"We have to take into consideration that many of the issues raised by people throughout Arab countries are internal affairs in a sense," says Mr el-Arabi.
In neighbouring Libya, home to an estimated one million Egyptians, the minister says the priority is to stop bloodshed. "We are taking a very neutral position," he says.
Domestic distractions
Daily newspaper headlines in Egypt are filled with references to ongoing domestic upheavals as well as the continuing anti-government protests gripping the Middle East.
"Look at this: Mubarak held on corruption allegations, Yemen and Syria. You have all the drama in today's newspapers," says an elderly vendor, whose stall is across the Nile from the Foreign Ministry.
For now, preoccupation with internal affairs and uncertainty about the future leadership of Egypt is a distraction for foreign policy.
However, Max Rodenbeck, chief Middle East writer for The Economist, observes that unchanging national interests will also tie the hands of whoever takes the reins of power.
"Almost anyone, whether it's a pro-Western liberal, or some sort of Islamist representative of the Muslim Brotherhood will want to make Egypt more independent and readopt the role of strong regional player," he says.
"I imagine we will see a little bit of distancing from the US, probably more chill in the Egypt-Israel relationship but all parties in Egypt, even the Muslim Brotherhood, have said they would respect the Camp David peace accords."