Egypt's revolution inspires new trends in pop culture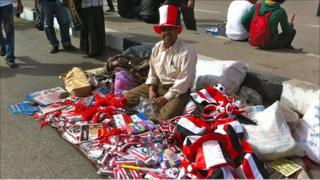 Egypt's revolution is having a big impact on popular culture - but do new songs, ads and t-shirts keep its spirit alive or trivialise it, asks the BBC's Yolande Knell.
During the heady days of anti-government protests, a red, white and black Egyptian flag was predictably the must-have accessory.
Now, though, you can show your commitment to the revolution with a range of headwear and bags in the national colours. Matching headbands and wristbands are also very much in fashion this Arab spring.
"When you want to go all the way, you can have the button, ribbon, bandana and the flag and t-shirts," says Tamer, who wears a cap with a "25 January" legend. "Your whole attire can be in the colours of the Egyptian flag."
"I've been buying car bumper stickers," says Dina. "It's just for fun, for encouraging sales, for encouraging the revolution."
An informal market has sprung up on the pavements around Cairo's Tahrir Square. While the economy is down, the memorabilia business is booming.
"I left my shop in Khan el-Khalili market because there are no tourists coming and I need to make money," says Waleed Mohammad, a t-shirt vendor. "People like this shirt - it says, '25 January: I am free.'"
However, some offerings intended as tributes to the protesters who died in the uprising verge on bad taste.
"At some point the revolution has been made into something trivial or not respected," says blogger Wael Abbas.
"There was this guy selling pictures of the martyrs and yelling: 'Martyrs, martyrs: get your martyrs for two pounds.' The sound of it shocked me."
Songs of freedom
For many Egyptians, though, the revolutionary anthems are more appealing.
One song, Sout al-Hurriya (Voice of freedom), filmed during the demonstrations in Tahrir Square by a group of musician friends, has almost become its theme tune.
"On every street in my country, the voice of freedom is calling," goes the chorus.
"We were trying to be a kind of underground media to oppose state TV because they were saying a lot of bad stuff about the protesters," says singer and producer Hany Adel.
"We wanted to show our country what kind of people were really in the square."
The song quickly became an internet hit but in a strange twist of fate, with reforms to official media, it is now being shown regularly on state television.
"It became famous because it's sung from the heart," says Hany.
Rapper Karim Abdul Rahman shot a music video on 28 January to accompany his song calling for revolution, which had previously been banned.
"I wanted the lyrics to motivate people," he says. "Now I can say everything that I wanted without any fear. It's the same for all media, for rap and songs and movies. We have talented artists of all kinds."
Creative cartoons
In a high-ceilinged studio in downtown Cairo, cartoonist Mohamad Shennawy relishes breaking old barriers with his new work.
"There's a huge difference between before and now," Shennawy says.
"We are freely drawing Mubarak, corrupt businessmen and state security. All these icons you couldn't draw before, now we can draw them freely."
The cover of the latest edition of the comic magazine, TokTok, which Shennawy produces with fellow artists, shows a small figure armed with a Facebook sign defeating the power sources of the former government.
"There was a lot of inspiration in the revolution: the humour of Egyptians, their courage breaking taboos and the corruption stories," Shennawy says.
As Egyptians face tough times politically, socially and financially, pop culture lifts spirits, provides light relief and promotes patriotism.
Unsurprisingly, advertisers have been quick to get in on the act.
Billboards across central Cairo, sponsored by construction and telecommunication firms, use revolutionary images and slogans such as "Let's build Egypt," or the computer command, "Restart".
Even boxes of tomatoes come with a 25 January logo.
There is some hypocrisy involved. Like certain celebrities, many big businesses had close relationships with the former government and did not support the revolution at first.
But it is key to its ultimate success that everyone now buys into the brand.