Conductor Daniel Barenboim holds Gaza 'peace concert'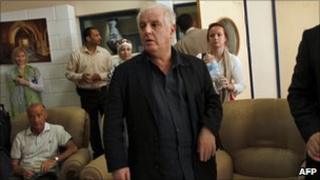 Israeli conductor Daniel Barenboim has led an orchestra of European musicians in a "peace concert" in Gaza.
Hundreds of Palestinians, many of them schoolchildren, attended the first performance in the coastal territory by an international classical ensemble.
Israel forbids its civilian citizens from travelling to Gaza, so Barenboim entered via Egypt with 25 musicians.
For years, Barenboim has used music to try to promote peace between Israel and the Palestinians.
The conductor, who accepted honorary Palestinian citizenship in 2008, famously set up an orchestra made up of young Arab and Israeli musicians, known as the East-West Divan orchestra. In 2005, it performed in the West Bank city of Ramallah.
But Tuesday's concert in Gaza City was one of his most ambitious moves, says the BBC's Jon Donnison in Ramallah.
'Not political'
Barenboim was greeted with thunderous applause as he entered the hall of the al-Mathaf Cultural House.
He said the members of the orchestra had two things in common.
"They are tremendously good musicians... and they are musicians who care about humanity," he explained.
"This is a unique gesture from the whole of Europe for you, Gaza."
The so-called Orchestra for Gaza includes musicians from five leading European orchestras, including the Berlin and Vienna philharmonics.
The programme included pieces by Mozart including Eine Kleine Nachtmusik and the G minor symphony.
"This visit is very important to us for many reasons, both cultural and civil," Ibrahim al-Najjar, director of al-Qattan music school, the only such establishment in Gaza, told the AFP news agency.
"And from a political perspective, it is important to show that Gaza is a safe place," he added.
Gaza is governed by the Islamist group Hamas, which Israel regards as a terrorist organisation.
The impoverished coastal strip has been subjected to a crippling Israeli blockade since 2006. The embargo was eased somewhat last year following international outrage over the killing of Turkish activists on an aid flotilla.
The Israeli government has previously blocked attempts by Barenboim to perform in Gaza, and Israeli law bans citizens from entering the territory.
The concert was therefore co-ordinated in secret with the United Nations until invitations were distributed earlier this week.
Barenboim's entry through Egypt's Rafah crossing comes amid Israeli criticism of plans by Egypt's new military rulers to open up the border, our correspondent says. Former President Hosni Mubarak tacitly supported the blockade.