Iran's place in the new Middle East
By James Reynolds
BBC Iran correspondent, London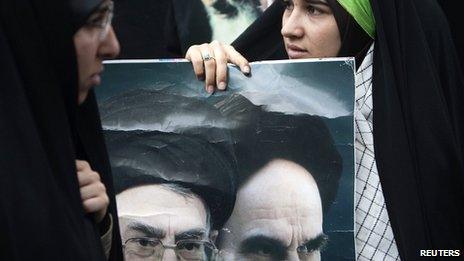 "I am telling you that a greater and new Middle East will be established, but it will be a Middle East without the presence of America and without the existence of the evil Zionist regime": President Mahmoud Ahmadinejad, 20 April 2011.
Iran's chief executive does not waste all that much time on doubt. Recent history may have given him hope.
In the last decade, Iran has sat to one side and watched the United States remove two of Iran's main enemies - the Taliban in Afghanistan and Saddam Hussein in Iraq.
It may be that Iran was the big winner of America's decision to invade Iraq and Afghanistan.
But now the Arab Spring has happened. Iran's place in what Mr Ahmadinejad calls the new Middle East is not clear.
Iran's people are mostly Persian and Shia. Because of this, the country has always found it hard to make firm friends in a region whose people are mostly Arab and Sunni.
Since 1979, Iran's most enduring Middle Eastern ally has been Syria.
The two countries share a strategic interest in the Lebanese armed movement Hezbollah.
But the Syrian government is now facing extensive unrest. The United States accuses Iran of helping the Assad government to put down protests.
"We believe that there is credible information that Iran is assisting Syria," said state department acting deputy spokesman Mark Toner on 14 April.
"I'm not going to get into details about that material assistance, but it's of real concern to us."
Media reports suggest Iran has provided Syria with crowd control and communications equipment.
Both Iran and Syria have denied the accusation. But analysts are not convinced.
"In view of the relationship between the two countries, these reports are probably true," says Jubin M Goodarzi, professor of international relations at Webster University in Geneva.
"If you have major political change in Syria, if the Assad regime is overthrown, that would constitute a major setback for Iranian foreign policy."
But Iranian foreign policy is not restricted to Syria.
Iran is taking particular interest in Bahrain - where a majority Shia population has demonstrated against the ruling Sunni establishment.
Many in the Middle East accuse Iran of trying to interfere in Bahrain. Iran's government denies the charge.
Analysts say Iran's influence on the Shia population in Bahrain and in other Gulf States is often overestimated.
"The reality of Shia populations across the GCC [Gulf Co-operation Council] states is that they are not fifth columnists for Iran," says Afshin Molavi, a senior research fellow at the New America Foundation.
"They should be treated for what they are - citizens of those states. When they are treated well, they display the same level of nationalism as other citizens. You don't find many people who long for an Islamic Republic. They long for citizens' rights."
In other words, do not expect any Iran-style revolutions in the Gulf.
Faced with limited influence in the Gulf, and an alliance with a shaky-looking Syria, Iran is trying to shore up its friendships with other countries in the region.
Iran is now working closely with the Shia-led government in Iraq.
It is also trying to establish diplomatic relations with the new Egyptian government (ties between the two countries were broken after Iran's 1979 revolution).
And Iran is still keeping a close eye on domestic dissent.
It does not want a repeat on its own soil of the uprisings in Tunisia and Egypt.
Since February, Iran's security forces have put down or prevented around a dozen demonstrations.
Mahmoud Ahmadinejad's vision of a new Middle East does not include a new form of government in Iran.