Syria eyewitness: The slow build up to revolt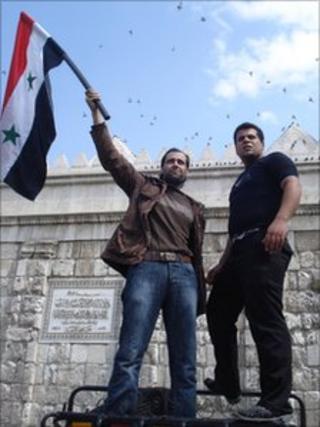 The BBC's Francis Collings has just returned to the UK after living in the Syrian capital Damascus for 18 months studying Arabic. There, he witnessed the changing atmosphere and slow build up to serious unrest across the country.
It was a main topic of debate three months ago in the cafes and bars of Damascus - would Syria go the same way as other countries in the region and challenge the ruling elite that has governed the country for more than 40 years?
Overwhelmingly, my friends and contacts in the old city denied that insurrection was coming.
They would cite the differences between Syria - which has taken an anti-Israeli and anti-American stance - and Egypt.
And then they would talk about their leader.
"Mahboub" was the word you would hear from shopkeepers, taxi drivers and friends about President Bashar al-Assad. In Arabic, it effectively means beloved.
Syria has a young population and most people have known nothing but the ruling Baath Party and a president called Assad.
But this was Damascus, and we knew there was generally a great difference between the capital and other towns.
Sweet tea
I had good reason to believe the people I was talking to. I had been in Damascus for 18 months learning Arabic.
Being able to speak to Syrians in their mother tongue was an enormous advantage, and the Damascenes love to talk.
In nearly every shop you would be offered sweet tea, and chided gently if you begged for only one teaspoon of sugar - instead of the usual four or five.
I was living in the predominantly Christian area of Bab Sharqi, near one of the seven ancient gates of the city.
It may have been called a Christian area, but as I studied or took lessons each day on my rickety terrace, the call to prayer would echo loudly from two nearby mosques.
I used to love Sunday mornings, when sleep was impossible - "Allahu akbar" would thunder out from the sound systems of competing imams, while the bells from a nearby Christian Orthodox church mixed into the cacophony.
The blend of the religions was one of the most attractive aspects of life in a wonderful city.
I walked the winding streets and alleyways on most days to gauge the mood, streets that have not changed in hundreds of years.
I talked to neighbours smoking their argileh water pipes, bought Syrian bread that came with cumin seeds sprinkled on top, and haggled with my grocer, who always had wonderfully fresh fruit and vegetables, but a strange pricing policy.
Hours were spent on minibuses travelling to language classes across town, to see friends in outlying suburbs such as the pre-dominantly Palestinian Yarmouk area, or Muhajareen, that had the best views over the city.
Harsh looks
Even as the first seeds of unrest were being sown in Deraa in the south and Latakia in the north in March, Damascus remained relatively calm.
The only disturbance came from vast convoys of cars with horns blaring waving posters of the president, driving at speed around the city.
"Allah, Soorya, Bashar wa Bass (God, Syria and Bashar only)," went the cry.
The convoys became so large and noisy that the government sent out a mass text message. It effectively read: "Thank you for the support, but we'd like to get some sleep."
Then again, there were nights when I'd hear another noisy procession of cars and it would turn out to be a wedding.
But when the mood changed - it was sudden.
One day in mid-March, as I walked the alleyways near my home, I became aware of men I had never seen before on street corners.
The strong indication that they were the security police, the Mukhabarat, was the way they looked at you.
Syrians are polite, hospitable and caring people. The words you hear most often are words of welcome: "Ahlan wa sahlan".
To be looked at in a harsh way at by strange men in my area was disconcerting.
"Who are these men?" I'd ask neighbours. "Strangers," they would say, and generally not want to speak anymore.
Precautions
Later that day, I was at the Umayyad Mosque in the heart of the city, one of the oldest in the world. The area outside was humming with tension and plainclothes officers were everywhere.
Fights broke out within the mosque as pro-government supporters spied people they believed were anti-government protesters.
That day an American student was arrested, disappeared and later spent three weeks in jail. I started to hear about journalists and foreigners who were being picked up by the police.
A few days later, while trying to blend into a largely silent crowd, I witnessed some 20 or 30 men in shackles being taken from police vans into a court building near the main souk (market).
"From Deraa," a man told me, referring to the southern hotbed of unrest. I wonder now what has become of them.
Amongst friends, precautions were taken.
Laptops were cleared of incriminating data, backup hard drives were moved to other houses, e-mail contact with the outside world was secured, and we started being careful what we said on the phone to each other.
Most foreign students left when they could, not because Damascus was unsafe. Far from it.
But there was a general fear that it could soon get far worse.
I may have been there as a student, but with the word journalist on my immigration records, I was being especially careful.
I haven't been in my favourite cafes in Damascus for nearly a month, but I still talk to friends to check on their wellbeing.
The latest reports coming out of Syria say that almost 800 people have been killed as the authorities put down protests in cities and towns across the country. Hundreds more have been detained, some tortured, according to human rights groups.
I'm wondering if I was there now, how freely the locals would be able talk to a foreigner as they once did... and whether the word "mahboub" is still being used so readily about President Assad.