Bin Laden dead: Saudi sympathy for local boy Osama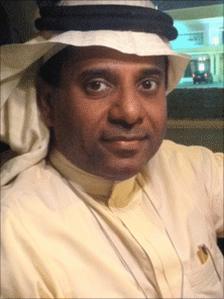 One day, when they were still in school, Khaled Batarfi was playing football with Osama Bin Laden.
Osama was being pushed around by a player from the other side, so Khaled went and pulled their opponent away.
"When I came back to Osama, expecting gratitude, he was saying if you had waited a little longer, I would have solved it peacefully. He was this kind of boy, until Afghanistan changed him."
Khaled Batarfi and Osama Bin Laden grew up on a quiet, residential street in central Jeddah.
The Bin Laden house has been demolished, replaced by a six-storey block of flats. One visitor to the complex, on being told about the history of the neighbourhood, said that he didn't know "and I don't want to know".
Another neighbour said he felt sorry that Bin Laden had been killed "as he was a Muslim brother", while the man's teenage son said that "he sacrificed [himself] for Muslims. He did not deserve to be killed".
Across Jeddah, where the large Bin Laden family is still based and where most of its numerous business interests are headquartered, there is widespread sympathy for Bin Laden, if little evident support for his beliefs and actions.
On one evening down by the long, curved Jeddah Corniche, as families gathered to eat and drink and watch the waves of the Red Sea crash on to the shore, many people also questioned whether Bin Laden had actually been killed.
One young woman, dressed in a hijab and niqab, expressed the view of many saying: "We don't have any evidence. They could have faked his death, edited [the pictures]."
Osama Bin Laden left this city in the mid-1980s to fight the Soviets in Afghanistan.
The cause was seen in Saudi Arabia as a just one, and many others followed him to support the mujahideen.
In early 1990 Bin Laden returned to Saudi Arabia and gave a lecture in which he predicted that Saddam Hussein would invade Kuwait.
Jamal Khashoggi, who had travelled extensively with Bin Laden in Afghanistan, attended the talk and afterwards asked his old friend how he could be so certain of the future.
"He recited a verse from the Koran," recalls Jamal.
"The verse means the one who practises jihad for God, for Allah, God will show them the right path. I wasn't comfortable about it. He had given himself the position of 'I am seeing things because God is directing me towards it'. That was the first time I felt that Osama began to have an inflated ego."
Jamal lost touch with Bin Laden in the mid-1990s and Khaled in the early 1990s as both completely rejected his ideology.
Although it has been many years since either of them saw Bin Laden, both admitted feeling sad at the death of their old friend in a raid by US forces in Pakistan earlier this month.
Khaled Batarfi believes the US should have tried to arrest him or, failing that, given him a proper burial.
"They could have shown a video of a Muslim scholar doing a proper prayer, and then being buried on land, without saying where. If they had done that, they would have escaped all the controversy."
For Jamal Khashoggi, there is something apt about the fact that Bin Laden was killed at this time, in the midst of much upheaval in the Middle East.
"His organisation, ideas and thoughts reached a dead end," he said.
"They all failed in Tahrir Square. He could have done much better for himself, for his family, for his religion if he had remained a moderate."
The Saudi government has given a fairly muted reaction to Bin Laden's death, saying simply it hoped the killing would help international efforts to combat terrorism.
Interior ministry spokesman General Mansour Sultan al-Turki acknowledged however that his country's most notorious son would continue to affect Saudi Arabia.
"The impact of Osama Bin Laden on Saudi Arabia was the ideology he has developed, the ideology… which we consider to be the driving force for al-Qaeda-related terrorism."
Related Internet Links
The BBC is not responsible for the content of external sites.