Obama speech: Cairo reflects Egypt's disillusionment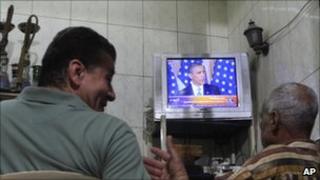 The contrast with President Barack Obama's speech in Cairo two years ago could hardly have been starker.
That speech inspired enormous interest, and raised hopes to a height that was clearly unachievable.
Two years on, Egyptians, and many in the Middle East are deeply disillusioned with Mr Obama. They believe he has not delivered on the Israeli-Palestinian issue, and that he was slow to respond to the popular uprisings here.
Most people in Cairo were unaware he was even speaking about their region today.
It's going to take more than words to change that attitude, though many of the words he did speak at the state department will certainly be welcomed by the many Arabs who have been rising up against their governments.
The core principles outlined by Mr Obama provide a series of benchmarks against which his actions can, and already are being judged.
They include a pledge to oppose violent repression, and to support a series of universal rights, including free speech, freedom of assembly and of religion.
What does that mean for American policy towards Syria, where condemnation of President Bashar al-Assad is still equivocal, or towards American allies such as Bahrain or Saudi Arabia?
As he talked about Bahrain in his speech, Mr Obama stumbled over his words, as if realising he was on difficult ground. Saudi Arabia did not even get a mention, though its record on those universal rights is heavily criticised, and it has troops on the soil of its neighbour.
Decline of influence
But the biggest questions here, and potentially the biggest disappointment, relate to his comments about Israel.
Mr Obama did outline clearly for the first time a belief that any settlement should be based on the 1967 borders.
But despite the new call for peace, many people here will ask what the president is doing to achieve that.
Nothing seems to have happened in the last two years, and his widely respected envoy, George Mitchell, has just stepped down.
There's a wider issue that this speech highlights. One of the biggest themes of the so-called Arab Spring has been the decline of American influence in the region.
These uprisings and revolutions are not about the United States, and the United States has only limited power to influence their outcome.
The best, perhaps, Mr Obama can hope for is to record that he was on the right side of history. And this speech may have gone some way to achieving that limited goal.