Mubarak dilemma divides Egyptian society
By Angy Ghannam
BBC News, Cairo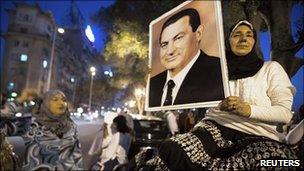 It is seven weeks since Egypt's former president, Hosni Mubarak, swapped his luxury residence in Sharm el-Sheikh for a nearby hospital, having reportedly had a heart attack during interrogations. Now, the embattled leader is finding support in some unlikely quarters.
The public debate has not been silenced by the decision to try Mr Mubarak and his sons for corruption and their roles in the killing of more than 800 protesters during the recent uprising.
He and his top officials have also been fined $90m (£55m) for cutting off mobile phone and internet services.
Many Egyptians who took part in the revolution are relieved that the ruling military council - whose members Mr Mubarak appointed to their posts - is not sparing its old ally from charges which can carry the death penalty.
However, they continue to fear that the 83-year-old will escape even a court appearance. They point to the fact that he remains in a regular hospital, rather than a military or prison facility, despite orders to move him.
On the other hand, there are a significant number of Egyptians who say the former leader should not be prosecuted.
They have organised a series of recent protests and plan a demonstration in Cairo's Mustafa Mahmoud Square to coincide with a rally by reformists in Tahrir Square.
Disagreement over the fate of Mr Mubarak highlights the potentially dangerous divisions as Egypt grapples with a difficult period of political transition.
"We are not calling for Mubarak to come back, but we are against insulting him because he is a national symbol," says May, a well-off mother of two, and an organiser of the support rallies.
"He should be treated in a way that isn't humiliating, that is suitable for a former president of Egypt and a hero of the October war," she says, referring to the surprise attack launched by Egyptian forces on Israel in 1973.
She accepts that her opinions may make her unpopular with some but insists her voice - and those of others like her - should be heard.
"We are supposed to have democracy and freedom of speech after the 25 January revolution," she says.
Pro-Mubarak demonstrations have featured slogans such as "The people want to honour the president" and "Your people will never forget you".
On 4 May, about 4,000 supporters gathered in front of the Egyptian TV studios to celebrate the ex-president's birthday.
"We wanted to take photos and send them to him to boost his morale," says Inas al-Fouli - who argues Mr Mubarak should be exempt from trial because of his age and ill health.
As with other events of its kind, it ended in clashes with anti-Mubarak protesters. The army had to intervene.
"They attacked us with stones, knives and Molotov cocktails. They injured many of us, sabotaged our celebration and ate the president's birthday cake," says Inas.
For them, feelings of anger towards Mr Mubarak have not dissipated.
"Mubarak must stand trial for the sake of the revolution's martyrs and their families," says Khalid Abd al-Hamid, a member of the 25 January Revolution Youth Coalition.
He says that Mr Mubarak abused his presidential powers in unforgivable ways.
"Mubarak spoiled political life in Egypt, stole the future of the entire population and deliberately took bad decisions to keep his post. He led a gang that stole from the people for 30 years right in front of their eyes," he adds.
Another anti-Mubarak activist, Azza Tawfik, agrees.
"If Mubarak doesn't go on trial, it will be a bold continuation of the very corruption that he created," she says.
The row about the appropriate treatment for the former president has sparked the creation of several opposing Facebook groups.
The biggest one backing Mr Mubarak, "I am sorry, Mr President", has over 83,000 supporters while its rival "I am not sorry, Mr President" has attracted over 156,000.
In a further illustration of the split, the weekly newspaper al-Youm al-Sabi recently ran a poll on its website. Nearly 51% of readers said they would pardon Mr Mubarak if he returned the money he allegedly acquired through illegal means, while almost 49% rejected the idea.
For Egyptian state TV - a powerful propaganda tool for the government before the revolution - the debate has presented a new challenge.
It has tried hard to ignore the pro-Mubarak protests taking place on its doorstep - opening itself to new claims of bias.
Last month, a Nile News TV presenter was suspended for talking about the rallies during his show.
Other areas of the media are freely joining the discussions on how to deal with the Mubarak dilemma.
There is recognition that this matter will mark an important chapter as Egypt strives towards freedom and democracy.