Fragile stability of aid-dependent Palestinian economy
By Jon Donnison
BBC News, Ramallah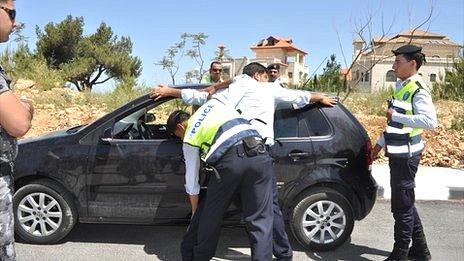 On the outskirts of Ramallah, sirens blare over the crackle of police radios as Palestinian officers surround a car and make an arrest.
"I've done nothing wrong," pleads the young offender, in a suspiciously hammed up fashion, as he is handcuffed and patted down.
As he is bundled into the back of a police car, the would-be criminal flashes me a wink and a toothy smile.
This is a training exercise.
"I used to be an actor," he laughs, "before I joined the police."
These are Palestinian police receiving training by officers from the European Union.
The project was originally set up five years ago by the British government and has since been taken over by the EU.
"We have officers from a lot of member states here providing expertise," says Chris Machell, who served with Northumbria police in the UK for 30 years before beginning a retirement of sorts on the West Bank.
"We're making some progress. The Palestinian police are becoming a much more professional organisation."
The project, with an annual budget running into tens of millions of dollars, is one of hundreds aimed at supporting the Palestinian National Authority.
Palestinians in the West Bank and Gaza receive more foreign aid per head of population than any other group of people in the world. According to research done by The Economist magazine, in 2008 it amounted to $675 (£414) per person, per year. A good amount of that money comes from the European Union.
"The EU contributes around 500m euros a year, with roughly the same amount coming from individual member states," says Christian Berger, the EU representative to the Palestinian territories.
Some observers have called it buying economic peace.
And the vast injections of foreign money have seen the Palestinian economy grow. According to the International Monetary Fund, in the West Bank it grew by over 9% in 2010.
The removal or relaxation of some Israeli military checkpoints in the West Bank has also made it easier for Palestinians to do business.
In Ramallah, some of that growth can be seen.
The West Bank's boomtown, with its government ministries and large international population, is by no means typical, but it has been transformed in the last five years.
Scores of new buildings have gone up, and numerous cafes, restaurants and bars have opened.
Jasmine is one of the latest places to open its doors. Sitting on its terrace, you find yourself amid a young, affluent-looking crowd.
A line of 4x4 jeeps is parked outside. You pay almost $5 (£3) for a large cappuccino here.
Most Palestinians cannot afford to come here. The United Nations estimates that 25% of Palestinians live below the poverty line.
But there is clearly a minority of people in Ramallah with money, and much of it can probably be traced back to foreign aid.
"Over the last 15 years, 50% of the Palestinian Authority budget has come from foreign aid," says Nasser Abdul Karim, an economist at the West Bank's Bir Zeit University.
"But it's charity and the growth is unsustainable," he says wryly.
So what would happen if the funding stopped?
"Salaries would not be paid. Employees would stop spending. People could not pay rent or bank loans or electricity bills," says Mr Abdul Karim.
"The domino effect would play a major role in crippling the whole economy."
And yet that scenario is a possibility.
This month, Palestinians were out on the streets to celebrate the unity deal between Fatah and Hamas, to try to end four years of bitter division between the two main political factions.
The secular Fatah party is considered by many in the West as moderate.
Not so the Islamist movement Hamas, which the European Union and the United States regard as a terrorist organisation.
Last time Hamas were in the government, having won parliamentary elections in 2006, the big donors pulled Palestinian funding.
Tens of thousands of people went without salaries for six months.
Some politicians in the US congress are already calling for American aid to stop now that Hamas is back in the frame.
But what about the European Union, the Palestinian Authority's biggest donor?
"At the moment, we're not talking about Hamas joining a government," says Mr Berger, pointing to the fact the unity deal aims to initially set up an interim government made up of independent politicians.
"After that, there will be elections in a year's time. We're going to concentrate on what's happening now - not in a year's time," he says.
In other words, he does not feel the EU have to make a decision yet.
But the fact that so much money might be riding on whether the Hamas-Fatah unity deal works is one pressure that could see it fail.
"It would be wrong to stop funding us because of Hamas," says Ali Jarbawi, an independent politician and planning minister in the West Bank who has worked closely with the European Union.
"You cannot have your cake and eat it too. For the last two years, the world at large has been calling for Palestinian political unity. Now when we achieve it, they come and tell you, 'We cannot deal with you because of this reunification'."
Mr Jarbawi says the international community needs to make up its mind on what it wants.
During the past few weeks, I have heard a range of words used to describe the scenario if foreign aid were to be cut - from "stagnation" to "collapse" to "explosion".
Economist Nassir Abdul Karim feels the consequences would be so bad and so much has been invested that such a scenario would not be allowed to happen.
"The donors are not stupid," he says.
Others think that if the big foreign donors did decide to officially cut funding, they would find less transparent channels to keep the money coming, possibly by funnelling it through aid agencies and NGOs.
Nevertheless, many Palestinians who earn a living, either directly or indirectly, through foreign aid recognise that the relative stability achieved in recent years is fragile.