Yemen: 'A ticking time bomb'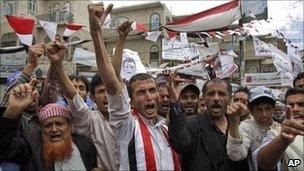 Reports from Yemen say that government planes have bombed armed tribesmen who had seized an area outside the capital Sanaa.
All British and US nationals in Yemen are being urged to leave the country immediately, as fighting escalates between government troops and tribal forces.
Three residents in Sanaa describe the situation on the ground.
More protests are planned after Friday prayers.
At least 10 people were killed overnight in the Arhab region, 15 kilometres north of Sanaa International Airport, where government forces clashed with the country's most powerful tribal group.
I'm at Change Square and armed security forces are now stationed around the area, ready to be deployed when demonstrators emerge from Friday payers.
I've also heard reports that protesters have gathered at Taiz to reaffirm their demands for the end of President Ali Abdullah Saleh's 33-year rule.
The security situation in Yemen continues to get worse. Yesterday, there was a short lull in the fighting. Enough time for a few brave people to quickly venture out to buy essential provisions.
Following Wednesday's violent clashes between government security forces and Hashid tribesmen, the city on Thurday was relatively calm and strangely deserted.
Traffic was moving but the atmosphere was quite tense. Yesterday I visited the scene of some of the worst violence to survey the damage and to interview people.
I saw rubble and debris strewn everywhere. In some places it was a scene of utter devastation. I've never witnessed anything this bad in my eight months here.
I'm concerned about my safety but not enough to leave just yet.
A few hours ago, President Ali Abdullah Saleh gave a defiant speech on state radio. He said he wouldn't relinquish power and urged foreign governments to stop interfering. I think it was a speech directly aimed at President Obama.
The intense fighting caused the closure of the city airport on Wednesday. Now it's been reopened and hundreds of people are trying to flee the capital.
Residents are preparing themselves for the worst.
Most of the roads are closed. It took me an hour to get to work yesterday. No-one envisioned that the situation would deteriorate so rapidly.
On Thursday the sound of heavy artillery was heard throughout in the city.
I don't live very far from the area where Ali Muhsin al-Ahmar, who defected along with other senior military figures, used to reside.
This makes me feel very nervous since his camp is a clear target for the armed military personnel supporting the president.
I work for a local oil and gas company but I don't think I will go back to work. It's too dangerous.
I'm hoping my employers will give me a month's salary to live on.
The banks are closed. Some ATM machines are working. It's difficult to get foreign currency but we have been able to buy food and other provisions.
My family and I are preparing to leave for the city of Taiz. Our bags are packed and we are ready to go. We own two cars but I'm concerned about the acute shortage of fuel.
Petrol stations are closed. As a last resort I might buy some on the black market at anything up to 10 times the usual price.
I'm hoping to return to Sanaa once the situation is more stable and secure.
It's obvious that the country has become unstable and it is a ticking time bomb.
An overwhelming majority of Indian expatriates want to flee the country if skirmishes between tribesmen and the security forces intensify.
Our prayer group will convene next week and we will decide as a community whether to remain in the country.
I have lived in Sanaa for two years with my elderly father. I work as a nurse at a hospital. I've seen horrific injuries and treated a number of victims caught up in the fighting.
I love Yemen and it breaks my heart to see the current situation, especially knowing it can only get worse.
Security is plummeting and the economy is spiralling into oblivion. My salary only covers the basics. Increases in petrol and basic commodities mean I can't afford to remain in the country much longer.
Secondary schools reopen in June. Understandably, most parents are reluctant to let their children attend.
Foreign intervention, although probably inevitable, will be too late.