Yemen crisis: Saleh 'looking for better deal'
By Lina Sinjab
BBC News, Sanaa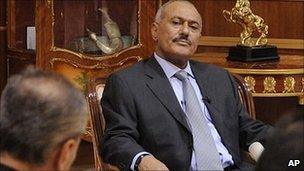 It is almost three months since the first "Day of Rage" in Yemen and President Ali Abdullah Saleh is still clinging on to power.
He had put several conditions on his departure and, as an initiative by the Gulf Co-operation Council (GCC) was signed by the opposition, he changed his mind.
President Saleh even escalated the crisis by launching attacks against Sheikh Hamid al-Ahmar, the leader of the Islamist Islah party.
Tens of people have been killed in the past few days.
But this escalation seems to be calculated. President Saleh wants more than what is being offered by the GCC initiative.
Abdulghani al-Iryani, a political analyst and expert in Yemeni affairs, believes President Saleh's response stems from the failure of the GCC to include the departure of three sons of Sheikh al-Ahmar in return for the departure of President Saleh's son and two of his nephews.
"The reason he refused to sign the agreement is that he couldn't not include the departure of the three sons of al-Ahmar in the agreement itself," he said.
"Now he is inclined to sign, on condition that the al-Ahmar sons will leave power too."
Clashes have been fierce between government forces and Sheikh al-Ahmar's supporters. The recent announcement of a ceasefire may indicate that a deal is being discussed but it doesn't guarantee a solution.
"It is offensive to President Saleh that his relatives will leave and the opponents will stay," Mr al-Iryani added.
"The ceasefire is still holding; now they will go into the details and that will include the departure of al-Ahmar's sons for a period of transition."
The city of Sanaa is reported to have been sealed off by the army fearing the arrival of tribes from different parts of the country.
Young pro-democracy demonstrators fear the situation could turn into a civil war but believe that their policy of peaceful protest will help defuse the tension.
Hashem Nidal, of the Independent Movement for Change, says last week's tension was an internal problem between President Saleh and Sheikh al-Ahmar.
"They wanted to push the revolution towards violence and we refuse this completely," Mr Nidal said.
"All our protests across the country were peaceful and we want it to be away from this violence. We are co-ordinating with many protesters across the country to make sure they don't fall into the trap of violence.
"After three months of great efforts in raising awareness among people to avoid violence, we managed to reach a level of understanding that refuses violence. We are looking to build our identity and to topple this regime by peaceful means."
Many of President Saleh's circle were surprised by his refusal to sign the GCC agreement last Sunday.
There is a sense among many here that President Saleh is playing for time and aiming to stay in power.
But there is also agreement - even among his supporters - that it is time for him to leave and for the country to move on.
Yemen is already suffering economically and recent protests have made the situation even worse.
"It is not going to be easy," says Mr al-Iryani.
"It is going to be a collective effort between the ruling party and the opposition."
Young protesters, who were not included in the Gulf initiative, are refusing any deal that would give immunity to President Saleh.
However, Mr al-Iryani sees a benefit in their exclusion.
"It is regrettable but it is also healthy for the revolution, as they are the safeguard to the success of the revolution," he said.
It is hard to predict whether President Saleh will eventually leave office.
Many here are concerned that the opposition will not make any better leaders than Mr Saleh.
As the opposition and President Saleh fight it out, it seems to be the youth who led this revolution that are being left behind.