Yemen: Hashid tribal fighters in ceasefire with Saleh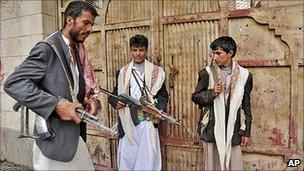 Yemen's president and the country's most powerful tribal leader have agreed a ceasefire after five days of fighting in the capital Sanaa, a mediator says.
At least 124 people have died in battles between forces loyal to Hashid leader Sheikh Sadiq al-Ahmar and President Ali Abdullah Saleh.
A tribal mediator says both sides have agreed to withdraw their troops.
Meanwhile in southern Yemen, three French aid workers are feared kidnapped after going missing, officials say.
The three are reported to have gone missing in Hadramawt in the south-east.
The ceasefire brings a halt to gun battles that had threatened to push Yemen into civil war.
The clashes began when President Saleh's security forces attacked the compound of Sheikh Ahmar, in the Hassaba neighbourhood of Sanaa.
Armed tribesmen fought back and reportedly seized control of several government buildings in the area.
The tribal mediator said the sides have now agreed to withdraw their forces from Hassaba, beginning on Sunday morning.
President Saleh is under pressure to step down after months of street protests, but has so far refused to sign a power-transition deal mediated by the Gulf Co-operation Council.
The three missing French aid workers had been in Seyun since mid-April working for Triangle Generation Humanitaire, a French NGO working in Yemen since 1998.
A Yemeni security official told the French news agency AFP that the three men were reported missing on Saturday afternoon when they failed to return to their residence in Seyun.
He added that their mobile phones "were suddenly switched off".
"Units of the security forces were immediately deployed to search for them," he said.
"The most likely thing is that they have been kidnapped."
The French foreign ministry in Paris confirmed that three French nationals had gone missing and said authorities were doing everything possible to find them.
On its website, Triangle Generation Humanitaire says its work in Yemen includes aiding Somali refugees and helping provide clean water in the southern port of Aden.
A spokesman for the group told Reuters news agency there had been no word from its three workers since 1000 GMT. He declined to name them.
"For the moment, we have no news. We are in a crisis situation, information is arriving little by little," he said.
He said the three had been on their way home from work when they vanished.
There have been dozens of kidnappings of foreigners in Yemen over recent years, and most have been freed unharmed.
Yemen's powerful tribes frequently kidnap people in order to bargain with the government in disputes.
Related Internet Links
The BBC is not responsible for the content of external sites.