Arab League backs Palestinian membership bid at UN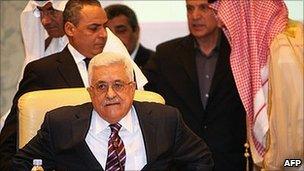 The Arab League says it will seek full UN membership for a Palestinian state with East Jerusalem as its capital.
The decision was made at a meeting in Doha attended by Palestinian leader Mahmoud Abbas.
Mr Abbas had reiterated his determination to seek UN recognition in September unless Israel began negotiations on a "substantial basis".
US-led peace talks between Israel and the Palestinians have been stalled for months.
A statement issued by the Arab League monitoring committee on Saturday said it "supports the appeal to the UN asking that Palestine, within the 1967 borders, becomes a full-fledged state" of the international organisation.
Mr Abbas had told the meeting: "Our option is still negotiation, but it seems that because of conditions imposed by [Israeli Prime Minister Benjamin] Netanyahu... we have no choice but to use the UN to get recognition of our state.
"We are serious in our decision to use the UN, it is not manoeuvring. We will do it unless Netanyahu accepts to begin negotiations today on a substantial basis."
In a keynote policy speech on 19 May, US President Barack Obama issued a clear call for Israel and the Palestinians to use the borders existing before the 1967 Six Day War, with land swaps, as the basis for talks.
However, he made it clear that an appeal to the UN for full membership for Palestine would be a mistake.
Mr Netanyahu rejected President Obama's proposal outright, saying the Jewish state would be "indefensible" if it returned to the 1967 borders, which would exclude dozens of Jewish settlements.
He also rejected the idea of dividing the city of Jerusalem. Palestinians want East Jerusalem as their capital.
On Friday, UN General Assembly president Joseph Deiss said that a Palestinian state would need the support of all five veto-wielding permanent members of the Security Council to be recognised.
Correspondents say this seems unlikely, although even as a symbolic gesture the move could make Israel look politically isolated.