Egypt deports Iran diplomat accused of spying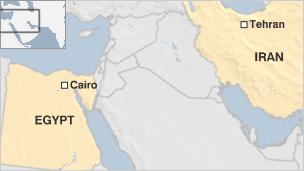 Egypt has deported an Iranian diplomat who was arrested on suspicion of spying, state news agency Mena said.
Qassem Hosseini was questioned on Saturday about passing intelligence reports to Iran, but released a day later due to his diplomatic immunity.
The Iranian mission in Cairo had denied reports of his detention.
Since the fall of President Hosni Mubarak in February, Egypt's ruling military council has indicated that it wants better relations with Iran.
Ties between the two countries have been frosty since Iran's 1979 Islamic Revolution and the Egyptian-Israeli peace accord that same year.
Although Cairo and Tehran do not have full diplomatic relations, each has a mission in the other's capital.
Mr Hosseini, the third secretary at Iran's special interests section, left Cairo on Monday on a flight bound for Dubai, the official news agency said.