Merkel plane delayed after Iran refuses passage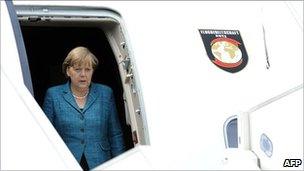 German Chancellor Angela Merkel's flight to India has been delayed after Iran's government refused it permission to fly over the country.
Mrs Merkel's plane was forced to circle over Turkey for about two hours as a result, the German government said.
Germany has summoned the Iranian ambassador to explain the incident.
Last week saw the EU extend sanctions against Tehran over the lack of progress in talks about its nuclear programme.
"We have never experienced anything like this before," Mrs Merkel's spokesman, Steffen Seibert, said.
He said the incident was "unusual to say the least".
"Strange start to Indian trip - Iran temporarily denies overflight to chancellor's plane. Delayed landing in Delhi," he tweeted.
German Foreign Minister Guido Westerwelle, commenting on the decision to summon the Iranian ambassador, said: "Hindering the German chancellor's passage over Iran is absolutely unacceptable. It shows a lack of respect towards Germany that we will not accept.
"That is why I have summoned the Iranian ambassador. We shall make it very plain that such a breach of international conventions will in no way be tolerated by Germany."
It was not immediately clear why the plane was refused clearance to fly over Iran.
Officials in the German delegation travelling with the chancellor said the incident may have been due to "co-ordination problems".
A second plane with four German ministers on board was not delayed.
Related Internet Links
The BBC is not responsible for the content of external sites.