Egypt: Hosni Mubarak 'too sick for prison move'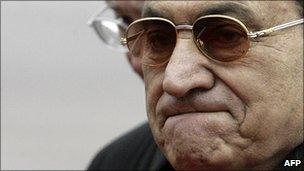 Former Egyptian President Hosni Mubarak is too sick to be moved from hospital to prison to await trial on murder charges, officials say.
The 83-year-old's heart condition put him at risk of a sudden attack, a government-selected panel of doctors reported.
He is currently under arrest in hospital in Sharm el-Sheikh after being taken ill in detention last month.
Mr Mubarak has been charged over the deaths of anti-government protesters.
The medical team reported that he was too sick to get out of bed without help.
They had "examined the patient in his intensive care room and found that he is clearly frail and depressed and cannot leave the bed without assistance", said Egypt's public prosecutor in a statement on Tuesday.
Their report added that the Tora prison hospital on Cairo's outskirts was "unsuitable for a patient in a critical condition".
Along with his sons Alaa and Gamal, Mr Mubarak has been charged with "premeditated murder" of some participants in the protests. If found guilty, he could face the death penalty.
The former leader is also being questioned over charges that he and his family made huge profits during the three decades he spent as Egyptian president.
He has already been fined $34m (£20m) for cutting off communications services during February's uprising.
More than 20 Mubarak-era ministers and businessmen linked to the regime have been detained since his departure.